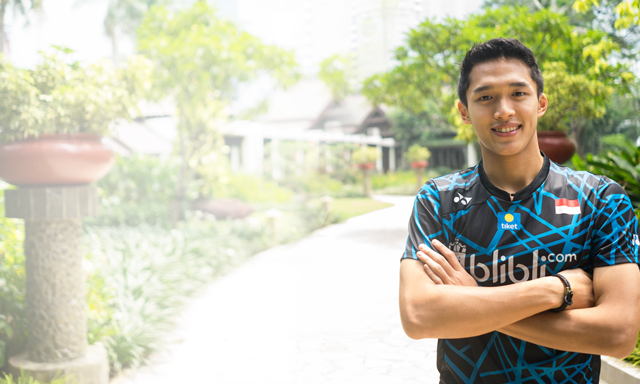 DAIHATSU INDONESIA MASTERS 2019 -Jonatan CHRISTIE's pre-tournament report-
The DAIHATSU INDONESIA MASTERS is on our shores again and it's the time of the year when fans get to witness what will be an explosive badminton action at the renowned Istora Senayan in Jakarta. From 22 to 27 January 2019, the world badminton's crème de la crème converge in Jakarta in pursuit of honours in the second edition of the DAIHATSU INDONESIA MASTERS, brought by the Indonesian Badminton Association (PBSI) and DAIHATSU.
Leading singles player, Jonatan CHRISTIE gives an insight on the upcoming the DAIHATSU INDONESIA MASTERS, players to look out for as well as Indonesia's challenge in the five-day tournament where players will be focussing hard to keep themselves in top shape and get off to a flying start in the early season tournament!
Here are the talking points for the newly scaled up DAIHATSU INDONESIA MASTERS 2019!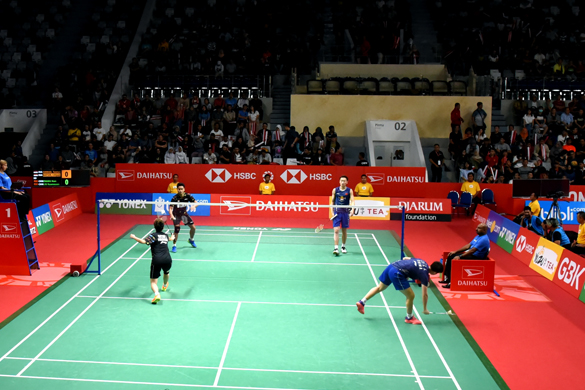 The second edition of the DAIHATSU INDONESIA MASTERS will be even exciting in terms of competitiveness and support from fans. Playing at the iconic Istora Senayan never fail to bring out the best in you, especially for Indonesian players who will be roared on by thousands of home fans. The DAIHATSU INDONESIA MASTERS, as a major early season tournament, is significant in many aspects and I'm hoping to repeat or do even better this time around.
Jonatan CHRISTIE looks out for these players!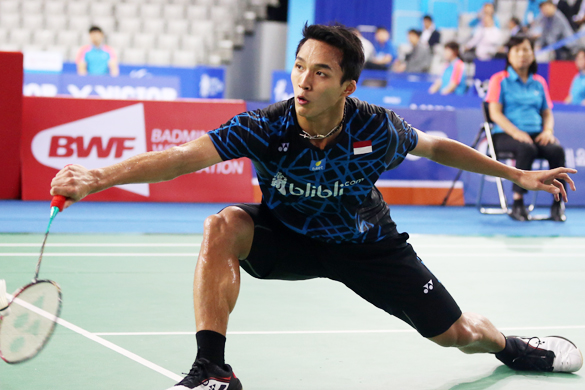 Last year was simply fantastic as we had 7 Indonesian players in the finals of the DAIHATSU INDONESIA MASTERS 2018, the men's singles, men's doubles, women's doubles and mixed doubles. The atmosphere was simply phenomenal and electrifying. As host, we have a great chance to be at the top again as we have many great talents coming up in the last few years. They are now ready to stake their claims and place in the senior team. The DAIHATSU INDONESIA MASTERS is the perfect platform for them to prove their strength.
Men's singles: It could be Anthony Sinisuka GINTING's year again, but Kento MOMOTA, SHI Yuqi could be the spoilers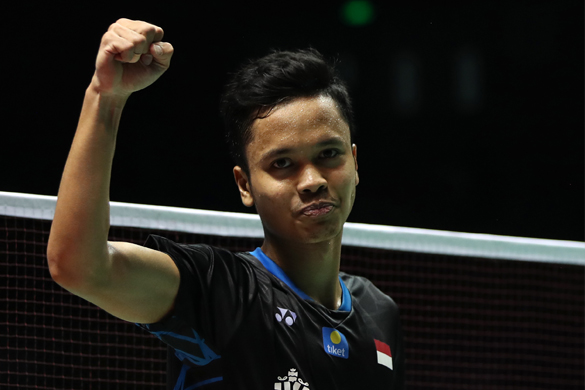 Defending champion, Anthony Sinisuka GINTING emerged as champion last year, beating Kazumasa SAKAI in the finals. It could be GINTING's year again, although his current performance remains in question. This can be seen in the recent World Tour finals where he lost out all his Group matches against eventual champion SHI Yuqi and Korean SON Wan Ho in the recently-concluded BWF World Tour Finals in Guangzhou.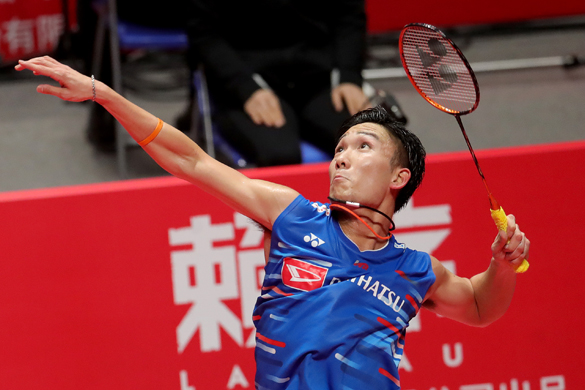 China is sending former leading men LIN Dan and CHEN Long as well, but the World Tour Finals winner SHI Yuqi will be the main man. Yuqi is currently at the top of his game with consistent achievement last year. Both Yuqi and GINTING have similar style of play, quick and aggressive and it would be explosive if both of them checked into the finals.
Viktor AXELSEN remain as among the chosen one despite his erratic performance while the world No. 1 Kento MOMOTA, the 2018 World Tour Finals runner-up, will be looking to exact revenge over his 21-12, 21-11 loss to Yuqi in the recent finals in Guangzhou. In Tommy SUGIARTO lost out to both Kento MOMOTA and India's Sameer VERMA in Group matches in Guangzhou but hopes are high for Tommy to perform in Jakarta. As for me, surely, I'm looking forward to giving my best and repeat my achievement of winning the 2018 Asian Games gold medal at Istora!
Women's Singles: With TAI's absence, who will rule?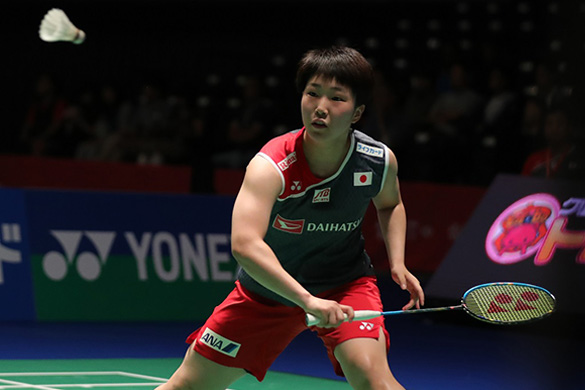 In the absence of defending champion TAI Tzu Ying, who defeated India's Saina NEHWAL last year, a new champion awaits in Jakarta. Who will be the main contenders? Akane YAMAGUCHI and the World Tour Finals runner-up Nozumi OKUHARA are right at the top and could make it an all-Japanese finals in the DAIHATSU INDONESIA MASTERS. The world No. 2 YAMAGUCHI lost out to OKUHARA in the semifinals in Guangzhou. Her ability to rise at the right moment of play is her biggest strength, thus her challenge should not be discounted. Okuhara, meanwhile, has found new strength following her achievement in Guangzhou, which will spur her to go higher.
Indonesia's Gregoria Mariska TUNJUNG, who was shown the exit by Malaysia's GOH Jin Wei in last year's early rounds, could rise as a better player this time around. The 19-year old Gregoria has been pit against big names like Saina NEHWAL, YAMAGUCHI and OKUHARA but her performance this time will depend much on her ability to absorb the pressure on courts.
Men's Doubles: Time for Marcus-Kevin to shine again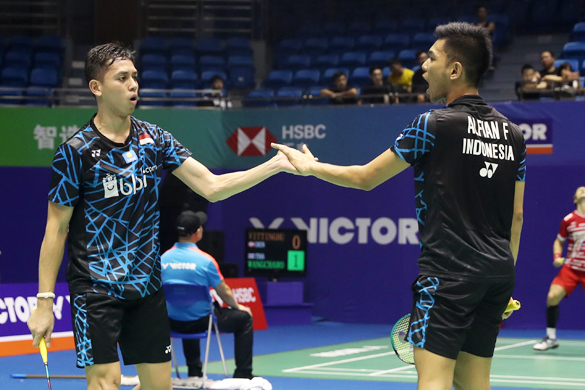 Marcus Fernaldi GIDEON and Kevin Sanjaya SUKAMULJO have been invincible in 2018 and fans expect nothing less than the best from the world No. 1 pair. Both had to pull out during one of their three World Tour Finals matches following Marcus's neck injury. Following their golden feat as champions in the World Tour Finals, expect the world No. 2, LI Junhui-LIU Yuchen to be among the favourites and close the gap against Marcus-Kevin.
Indonesian young pair of Fajar ALFIAN-Muhammad Rian ARDIANTO were drawn against and later lost to Junhui-Yuchen in the first round in last year's tournament. But, as time progresses, the world No. 6 pair and 2018 Asian Games silver medallists are considered as a force to be reckoned with and look set to be in the last eight.
Women's Doubles: Greysia-Apriyani capable of turning the tables on Japanese top pair
Greysia POLLI and Apriyani RAHAYU once again emerge as the pillars to lead the country's challenge in the women's doubles. The world No. 4 lost at the hands of Japan's Misaki MATSUTOMO-Ayaka TAKAHASHI in last year's final match and will be seeking to exact revenge at Istora Senayan. But it's not going to be smooth sailing if their recent results of the 2018 World Tour Finals were anything to go by. MATSUTOMO-TAKAHASHI kept a tight grip on their positions as the world No. 2, behind compatriot Yuki FUKUSHIMA-Sayaka HIROTA, who won six tour titles including the Badminton Asia championships in 2018. Japan looks set to continue their domination with all their top five pairs now confirmed for action in Jakarta, which also includes Wakana NAGAHARA-Wayu MATSUMOTO, Ayako SAKURAMOTO-Yukiko TAKAHATA and Koharu YONEMOTO-Shiho TANAKA.
Mixed doubles: Liliyana's last hurrah, looking for a memorable outing in DAIHATSU INDONESIA MASTERS to end 16-year badminton career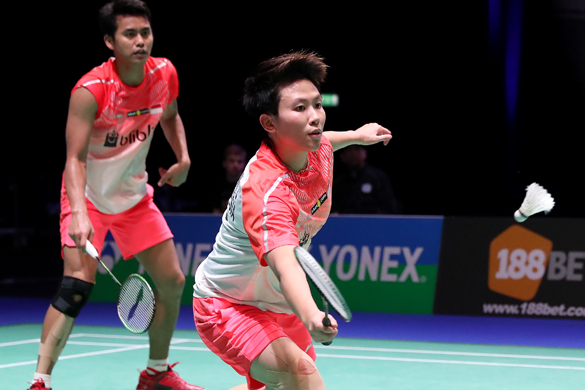 The DAIHATSU INDONESIA MASTERS will be Liliyana NATSIR swansong, marking the end of an eventful 16-year professional career of winning almost every major titles in the mixed doubles event. Liliyana's eight-year partnership with Tontowi AHMAD is regarded as the most complete combination with their remarkable achievements including winning the gold medal at the Rio Olympic Games, three-time All England champions and four World Championship titles. The DAIHATSU INDONESIA MASTERS will be special in many ways for Liliyana. Top on Liliyana and Tontowi's mind will be to redeem their loss to Chinese pair ZHENG Siwei-HUANG Yaqiong in last year's final. Indonesia, will not be short of talents as 20 other pairs have been registered to participate, proving the country's immense depth in mixed doubles.
China, meanwhile, is pinning their hopes in ZHENG and HUANG again their but will not find it easy against the Liliyana-Tontowi as well as Japan's world number 3, Yuta WATANABE-Arisa HIGASHINO.
Watch out for these players form worldwide
While the focus on the DAIHATSU INDONESIA MASTERS 2019 is centred more on the locals as well as shuttlers from Japan and China, strong challenge from from India, Taiwan, Malaysia and Denmark cannot be brushed aside. Indian badminton is soaring and brimming with confidence following the impressive progress in both the men's and women's singles department. KIDAMBI Srikanth remains at the top of his game while 24-year-old Sameer VERMA looked reliable following his creditable performance in the 2018 World Tour Finals. To cap an incredible year for Indian badminton, women singles shuttler PUSARLA V. Sindhu captured her first major title in the World Tour Finals in Guangzhou.
Look out for fourth-ranked Taiwanese pair of CHEN Hung Lin-WANG Chi Lin, the quarterfinalists in last year's tournament who did well to storm into the World Tour semifinals. Malaysian pair of TAN Wee Kiong-GOH V Shem and Indonesia's Fajar ALFIAN-Muhammad Rian ARDIANTO could also spring some surprises to go beyond the last eight while Hiroyuki ENDO-Yuta WATANABE's recent performance in the World Tour (finalists) enhances Japan's strength in the men's doubles.
Get your tickets early to witness badminton top stars in action! Happening at Istora Senayan from 22 to 27 January 2019
The newly-refurbished Istora Senayan is simply a magical venue to be, both to players and spectators. The atmosphere is simply phenomenal and electrifying. The venue has been a fruitful hunting ground for the homesters in the DAIHATSU INDONESIA MASTERS 2018 as well as in many other major tournaments. In the last year's edition, Istora Senayan was thronged with as thousands of people from day one to display their solid support to their badminton heroes. Expect even greater reception and support the organisers striving hard to ensure that no stones are left unturned in the preparation of the upcoming DAIHATSU INDONESIA MASTERS 2019!

"DAIHATSU INDONESIA MASTERS 2019" Tournament Overview

Name
DAIHATSU INDONESIA MASTERS 2019
Dates
22 January (Tues) 2019 – 27 January (Sun) 2019
Venue
Istora Senayan
Organized by
Persatuan Bulutangkis Seluruh Indonesia (PBSI)
Officially Recognized by
Badminton World Federation (BWF)
Title Sponsorship
PT Astra DAIHATSU Motor
DAIHATSU Motor Co., Ltd.
Event Categories
Men's Singles / Men's Doubles / Women's Singles / Women's Doubles / Mixed Doubles
Jonatan CHRISTIE
(born on 15 September 1997)

Jonatan CHRISTIE is an Indonesian male badminton player who specializes in singles. In the 2018 Asian Games in Jakarta, he won and took the Badminton Men's Singles gold medal for Indonesia.