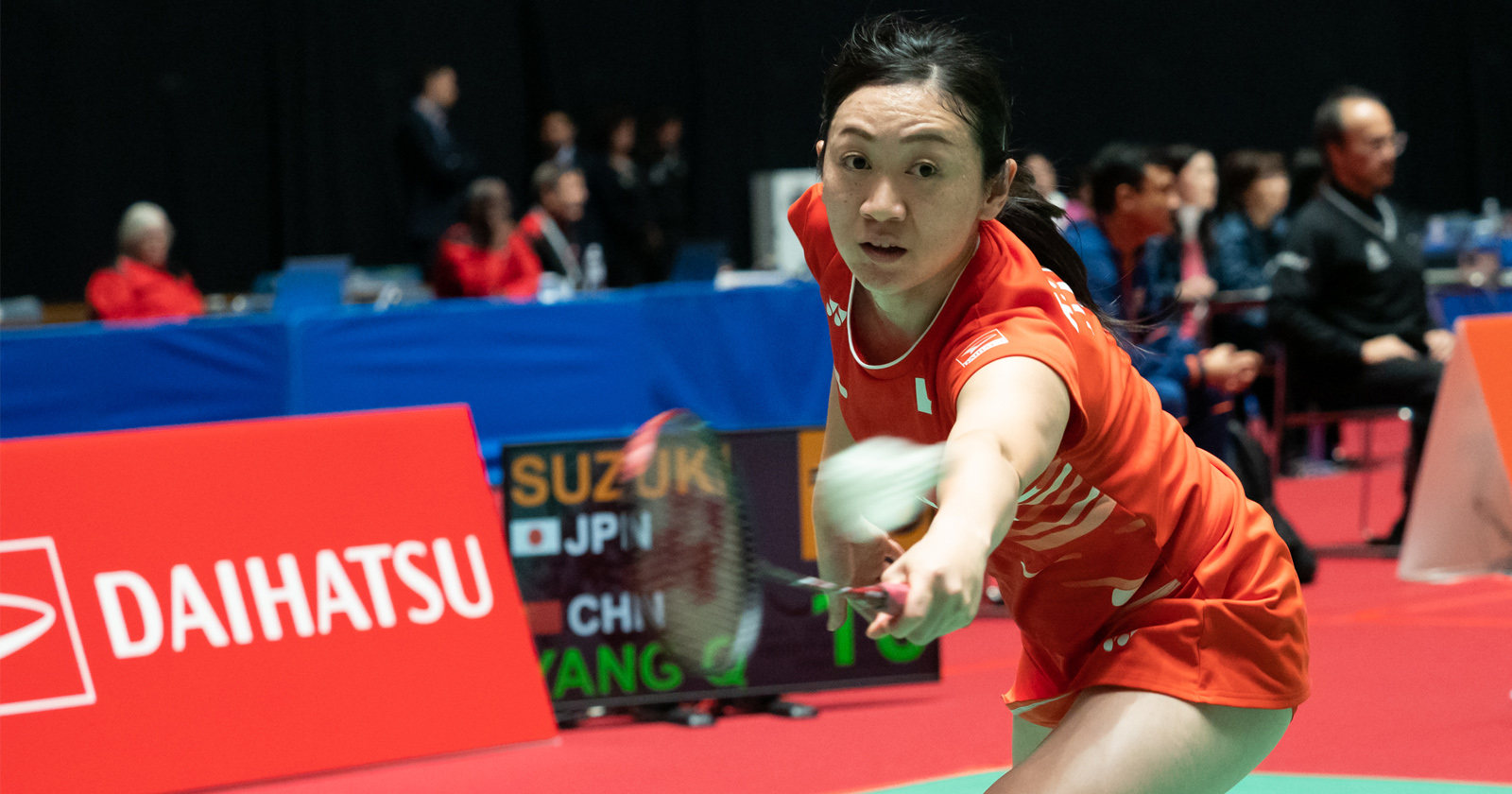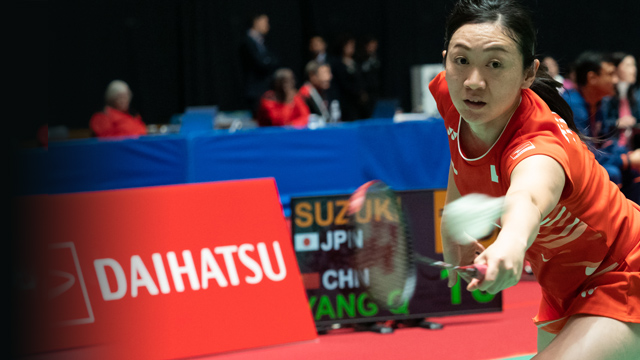 HULIC・DAIHATSU
Japan Para-Badminton
International 2019
Tournament Report
Date: Wednesday 13 - Sunday 17 November, 2019
Venue: Yoyogi National Stadium 1st Gymnasium
An autumn Tokyo gathering of the world's top players!

HULIC・DAIHATSU Japan Para-Badminton International 2019—one of the para-badminton's premiere international tournaments—was recently held at the 1st Gymnasium of the Yoyogi National Stadium in Tokyo.
The tournament was held over five days from 13 (Wednesday) to 17 (Sunday) November and featured more than 200 players from 35 countries in spirited contests. Yoyogi National Stadium's 1st Gymnasium, where the tournament was held, was filled with sports fans who came to see the exciting matches between the world's top para-badminton players.
Japanese players make their mark in Yoyogi, Tokyo!

Five Japanese players in four categories made it to the final matches on the last day of the tournament (November 17). Haruka FUJINO and Ayako SUZUKI both progressed to the SL4 Women's Singles and SU5 Women's Singles finals, respectively, while, Sarina SATOMI and Yuma YAMAZAKI made it to the final round in the WH1-2 Women's Doubles, and Noriko ITO and Ayako SUZUKI finished out the SL3-SU5 Women's Doubles. Of particular note was Ayako SUZUKI's quest for the third consecutive win in the singles competition and the second consecutive win in the doubles competition. Suzuki aimed to win two championships in two categories in two years in a row.
SUZUKI's first finals match was in the SU5 Women's Singles. Up against China's YANG Qiuxia, SUZUKI went all in with the first half of game 1 for a score of 11-5. The strong momentum continued in the second half, but YANG came back with a quick recovery. In the end, however, it was not enough, and SUZUKI came away with a 21-19 win. The heated rivalry continued into the evenly matched second game with a heated rally that left the players tied at 20 points before SUZUKI broke ahead with a 2 successive points to clinch the title, thus fulfilling her pledge for three straight singles wins.
In the SL3-SU5 Women's Doubles, however, SUZUKI and her partner, Noriko ITO, could not overcome the Chinese pair of CHENG Hefang and MA Huihui, and SUZUKI couldn't achieve a second consecutive victory.
Meanwhile, Sarina SATOMI and Yuma YAMAZAKI faced LIU Yutong and YIN Menglu in the hotly contested WH1-2 Women's Doubles final. The Chinese pair clinched the first game 21-14 and were poised to capture the title in the second game before the Japanese duo came through in the second half with a series of deuces to tie the score at 23-23. SATOMI and YAMAZAKI brought the game to a close with a 2-point rally, setting the stage for game 3. As the final game of the tournament, the stands filled with both fans and fellow players whose matches were finished. All eyes in the Yoyogi National Stadium now turned toward the exciting final game. The game kicked off with a rally that saw the Chinese pair briefly take the lead, but as the tables turned with the Japanese pair's superb performance in the middle of the match, SATOMI and YAMAZAKI kept the momentum until the end for a 21-15 win. This closely contested full-set match brought an exciting end to the tournament with a well-fought win for the Japanese pair.
Interviews with the Winners
Ayako SUZUKI(SU5 Women's Singles)

Before the tournament, I told people, "These medals are made in Japan. So they shouldn't be taken by some other country."
And I reminded myself that to win, all I could do was swing and swing and just keep swinging. With all that in mind, I took it all one step at a time, focusing on whether to return a straight or a cross. I suffered two crushing losses to YANG Qiuxia in Turkey and Dubai in the spring, so I started to think about what I needed to do to win. I took in all the various insights of my coach and focused on increasing my leg strength through running and other exercises. Even though this year marked two years since my previous win over YANG, I was pleased not only with my own growth over the last two years but also hers.

Sarina SATOMI(WH1-2 Women's Doubles)

I think the game was thrilling to the audience, but nothing beats the joy of actually winning the match. We knew even before the tournament how strong our opponents were. After losing the first game, I thought we might not win the match, but in the second game we were able to squeeze out a win, which set the stage for game 3. I could feel that we were beginning to fall behind the strength of the Chinese pair, and we began to play just to keep up, but after taking a moment to correct ourselves, we were able to get back to our own play style. The game was so intense that after winning I couldn't help but be proud of our victory and cry tears of joy.
Yuma YAMAZAKI(WH1-2 Women's Doubles)

I was really pleased that we could win this match.
The opposing pair was really quick in their returns, so the first game was a struggle. After managing to get a win in the second game, I started to get a little overconfident. That continued into the third game, and we lost the lead for a bit, but we soon found our pace and got back our pace.
In doubles, the player in front is always the target, so I made a point to tell SATOMI "do your best!" to keep the fight alive.
When we play overseas, we don't really get my family to come to see my matches, so it was nice to be able to show how cool I played to may kids, who came to this tournament.
Results of the Finals
Category
Player name
Match results
SL3-SU5
Mixed Doubles
Lucas Mazur/Faustine Noel(France) 2-0 Ilker Tuzcu/Halime Yildiz(Turkey)
21-16、21-15
SL3
Men's Singles
Daniel Bethell(England) 2-0 Pramod Bhagat(India)
21-16、21-19
SH6
Singles
Nagar Krishna(India) 2-1 Krysten Coombs(England)
20-22、21-17、21-12
SU5
Men's Singles
Liek Hou Cheah(Malaysia) 2-0 Suryo Nugroho(Indonesia)
21-16、21-17
SL3-SU5
Women's Doubles
Hefang Cheng/Huihui Ma(China) 2-0 Noriko ITO/Ayako SUZUKI(Japan)
21-13、21-8
WH2
Men's Singles
Jungjun Kim(South Korea) 2-0 Ho Yuen Chan(Hong Kong)
21-18、21-14
WH1
Women's Singles
Sujirat Pookkham(Thailand) 2-0 Menglu Yin(China)
21-17、21-7
WH1-WH2
Men's Doubles
Jianpeng Mai/Zimao Qu(China) 2-0 Jungjun Kim/Dong Seop Lee(South Korea)
21-12、21-13
WH1-WH2
Women's Doubles
Sarina SATOMI/Yuma YAMAZAKI(Japan)2-1 Yutong Liu/Menglu Yin(China)
14-21、25-23、21-15
SL4
Women's Singles
Hefang Cheng(China) 2-0 Haruka FUJINO(Japan)
21-11、21-12
SU5
Women's Singles
Ayako SUZUKI(Japan) 2-0 Qiuxia Yang(China)
21-19、22-20
SL4
Men's Singles
Lucas Mazur(France) 2-0 Siripong Teamarrom(Thailand)
21-9、21-8
WH1
Men's Singles
Zimao Qu(China) 2-0 Jung Man Choi(South Korea)
21-10、21-16
WH2
Women's Singles
Yutong Liu(China) 2-0 Tingting Xu(China)
21-15、21-15
DAIHATSU is dedicated to supporting the tournament and the players with the help of all our fans.
DAIHATSU is a special sponsor of this tournament and set up a special booth in the lobby of the Yoyogi National Stadium, where the tournament was held. To further the excitement of the HULIC・DAIHATSU Tournament, visitors to the booth received a special para-badminton booklet highlighting the sport's appeal and excitement. In front of the gymnasium, DAIHATSU also had on display the new Rocky and the Tanto Sloper assistive vehicle that allows disabled passengers to ride in the rear seat area easily without leaving their wheelchair. Visitors were able to experience at DAIHATSU's unique comfort of each vehicle. Meanwhile, at the award ceremony held after the matches, the president of Daihatsu Motor Co., Ltd—Soichiro OKUDAIRA—presented the awards to the winners.