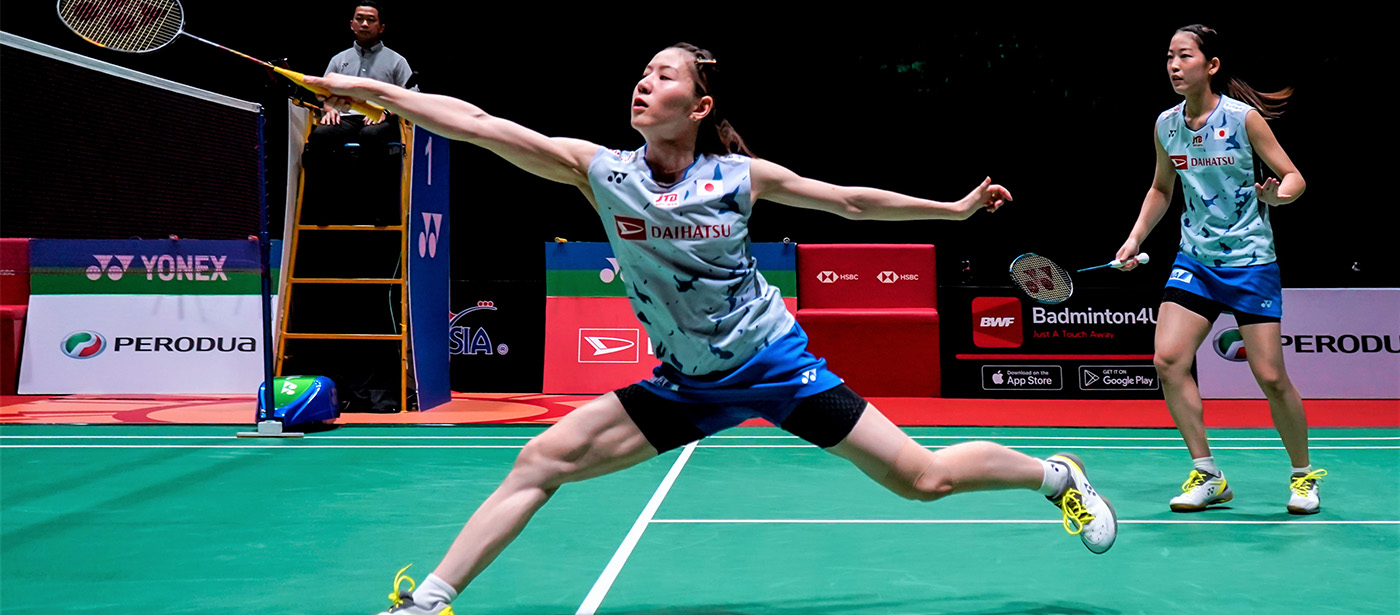 PERODUA MALAYSIA MASTERS 2022 Presented by DAIHATSU
Part of the HSBC BWF World Tour Super 500
Date: Tuesday, 5th - Sunday, 10th July 2022
Venue: Axiata Arena, KUALA LUMPUR, MALAYSIA
The PERODUA MALAYSIA MASTERS Presented by DAIHATSU returns from 5th July to 10th July 2022. This is the 13th tournament of the 2022 BWF World Tour and is part of the Malaysia Masters championships that has been held since 2009.

After a two-year hiatus, the PERODUA MALAYSIA MASTERS 2022 Presented by DAIHATSU is springing back into action with a prize pool of USD $360,000 for the winners taking, hosted exclusively at the Axiata Arena in Kuala Lumpur, Malaysia. Organized by the Badminton Association of Malaysia (BAM) with sanction from the Badminton World Federation (BWF), the PERODUA MALAYSIA MASTERS is categorized as one of the seven BWF World Tour Super 500 events.

In total, more than 60 Malaysian players competed for the coveted title. Fan favorites like Malaysian Men's Doubles Aaron Chia and Soh Wooi Yik and China's reigning mixed-doubles champions Zheng Si Wei and Huang Ya Qiong were in attendance and played their hearts out for the winning prize.
The energy of the crowd was high throughout the six-day event where badminton enthusiasts continued their support from morning until night. For those who did not manage to attend the games in person to enjoy the festivities, supporters and viewers were able to watch the tournaments live streamed on BAM's Facebook and BWF's YouTube channel for fans to cheer on local national heroes with friends and family.

This year's PERODUA MALAYSIA MASTERS 2022 Presented by DAIHATSU is a celebration of not only the sportsmanship of our talented players as well as the rush of excitement from the competition, but also to welcome back the returning fans and who have continuously showed their support to the players and most importantly to the games.
Final Match Results
| Category | Player name | Match results |
| --- | --- | --- |
| Men's Singles | Chico Aura DWI WARDOYO (Indonesia) 2-0 NG Ka Long Angus (Hong Kong) | 22-20, 21-15 |
| Women's Singles | AN Se Young (South Korea) 2-0 CHEN Yu Fei (China) | 21-17, 21-5 |
| Men's Doubles | Fajar ALFIAN and Muhammad Rian ARDIANTO (Indonesia) 2-0 Mohammad AHSAN and Hendra SETIAWAN (Indonesia) | 21-12, 21-19 |
| Women's Doubles | CHEN Qing Chen and JIA Yi Fan (China) 2-0 Nami MATSUYAMA and Chiharu SHIDA (Japan) | 21-11, 21-12 |
| Mixed Doubles | ZHENG Si Wei and HUANG Ya Qiong (China) 2-0 Rinov RIVALDY and Pitha Haningtyas MENTARI (Indonesia) | 21-17, 21-12 |
The game results of world-top players
Men's Singles: WARDOYO Goes for Gold

After making headlines at the Badminton Asia Championship in May, the 24-year-old made a splash by defeating four of the best players on his way to the semifinals. In a tense 45-minute match, Chico Aura DWI WARDOYO (Indonesia) defeated former champion NG Ka Long Angus of Hong Kong by winning the match 22-20, 21-15. WARDOYO, ranked 45th in the world, has been eyeing his second Malaysia title after his 2017 win and finally brought back victory. Both players traded point for point until WARDOYO found the cutting edge before surging to a 15-10 lead in the second that paved the way for the win. Through consistent form, technique, multiple smashes and near-slim net plays from WARDOYO made it difficult for NG to keep up and return back the shuttle, and from there victory was set for WARDOYO. The final 21-point was given to WARDOYO which gave him an emotional victory as he sinks to his knees in disbelief.
Women's Singles: AN Broke Barriers!

After a seven-game losing streak, South Korean Women's Singles shuttler AN Se Young finally broke the barrier to win against China's CHEN Yu Fei and lifted the title with a 21-17, 21-5 victory. This win not only lifted her from her losing streak against the top player but also made AN the first South Korean woman to secure the title in Perodua Malaysia Masters. AN, who had made a few errors during the start of the game, barely made any in the second set. AN demonstrated her fine touches at the net, as we could regularly see the shuttle falling off the tape making it difficult for CHEN to return back. It was a precise, consistent performance, unrelenting in pressure, and at the end CHEN was unable to find back her rhythm. The world number four admitted that she was in disbelief after beating reigning champion Yu Fei, who is currently ranked third in the world.
Men's Doubles: Champions Again for Duo ALFIAN/ARDIANTO

Indonesia's Muhammad Rian ARDIANTO and Fajar ALFIAN edged off fellow countrymen Mohammad AHSAN and Hendra SETIAWAN in the men's doubles, 21-12, 21-19. The young pair played with passion throughout both sets. It was an Indonesian love affair between the players and the crowd cheered for both of them with full support and adoration. During the second set, the game play from both pairs made everyone nervous whether if it will continue to another battle or will it be the end for "The Daddies"; however, at the end of the game, ARDIANTO/ALFIAN aimed at the title hard as they only needed to stay consistent. They continued their game with multiple smashes, zero-error, and checking their seniors' rhythm, the title immediately became theirs.
Women's Doubles: CHEN/JIA Just Too Good

CHEN Qing Chen and JIA Yi Fan of China defeated Nami MATSUYAMA and Chiharu SHIDA of Japan within 40-minutes. While the winning pair breezed through the game by their strong power which pressured their opponents to a defeat, fans were on the edge of their seats throughout the whole game watching attack after another being delivered and misses were made by the Japanese pair as their return from smashes kept hitting the net. MATSUYAMA/SHIDA were the only Japanese pairs left in the tournament and fans could tell they wanted the crowning title during the game, as they fought hard and did not give up throughout the game. However, CHEN/JIA showed no fatigue and dominated the game, and eventually secured their titles for the Women's Doubles match 21-11, 21-12.
Mixed Doubles: ZHENG/HUANG Truly Unstoppable!

The returning defending Chinese champions ZHENG Si Wei and HUANG Ya Qiong defeated Indonesia's Rinov RIVALDY and Pitha Haningtyas MENTARI 21-17, 21-12. China's world number one pair ZHENG/HUANG continued their impressive winning form, and were in their element defeating RIVALDY/MENTARI under 32-minutes and securing their second successive title here at the PERODUA MALAYSIA MASTERS 2022 Presented by DAIHATSU. The newly crowned Asia Champions from Indonesia Open and Masters, and Malaysia Open appeared undefeated and enthusiastic, which made it difficult for their opponents to develop a game strategy. They mounted their opponent with fierce attacks in both sets that forced RIVALDY/MENTARI to fight harder and got themselves tired easily trying to defend their zone.
THE JOURNEY TO VICTORY CONTINUES FOR PLAYERS TO ACHIEVE BADMINTON GLORY

Following the closing of the PERODUA MALAYSIA MASTERS 2022 Presented by DAIHATSU, Indonesia and China made their marks at the end and dominated their way to the finals making headwaves amongst badminton fans after winning each two titles respectively out of the five categories at Axiata Arena. With so many techniques showcased from the players who took part in this year's games, fans were on the edge of their seats watching many nerve-wracking close call plays throughout the six-day event especially from the local favourites' games – TAN Pearly and THINAAH Muralitharan; and Aaron CHIA and SOH Wooi Yik.

In the end, it was creativity and technique that took center stage and shined through amongst the top players who gained an upper hand over their opponents as they nabbed the coveted title of 'winner' at the PERODUA MALAYSIA MASTERS 2022 Presented by DAIHATSU.
For Indonesia's Men's Single's champion, Chico Aura DWI WARDOYO, there is no time to rest as he will be joining upcoming tournament, Singapore Open 2022, which starts on 12th July, in Singapore to claim another title for himself. The rests of champions' sights are also set not only for the upcoming Singapore Open 2022, but ultimately the 2022 Badminton World Championships to be held in Tokyo, Japan, from Aug 21st – 28th where they aim to nab gold under their belts.
Interviews with Winners
AN Se Young

(Women's Singles Champion)

"I can't believe I won this. It's really surreal. I can't sleep tonight!"
"I lost many times to her. I learnt a lot from our past matches and studied her videos. Instead of thinking about beating her, I was focused on improving myself. It was a battle over myself." – AN
Chico Aura DWI WARDOYO

(Men's Singles Champion)

"This is a dream come true, a proud moment for me, this title is important in my career, it is an important moment for my career."
"Obviously I'm happy and proud to be able to win my first title in the Super 500. I didn't expect to win here but this is also thanks to my preparation which I think is quite good ahead of this tournament," – DWI WARDOYO
CHEN Qing Chen/JIA Yi Fan

(Women's Doubles Champion)

"I feel that we played our best match of these past few tournaments. It was a tough route to the final. I think we played with more ease after we adjusted our mindset." – JIA

"Before we were always thinking that we need to reach the quarterfinals or semifinals, or that we have to win the title. But I think we need to remind ourselves of our initial aspiration like: Wow, we've reached the quarterfinals, wow, it was tough reaching the semifinals, or wow we are in the title match." We cannot think about our past achievements and neglect our original desire." – CHEN
ZHENG Si Wei/HUANG Ya Qiong

(Mixed Doubles Champion)

"I'm surprised we can keep winning because our level of energy and excitement are almost the same. We had to force ourselves to play at a high level so I must say that we didn't play that well," – HUANG.

"I feel exhausted, we had to force ourselves to keep our energy up throughout the match. Today was definitely tougher than previous tournaments, but I'm obviously very happy that we did it."" – ZHENG
Fajar ALFIAN/Muhammad Rian ARDIANTO

(Men's Doubles Champion)

"Alhamdulillah, I am grateful to have won today's final. Last week we were runners-up and today we can be champions for sure it is not easy. Because our stamina has been exhausted, but we know how to get up, to be even better,." – ALFIAN

"There are still a lot of evaluations even though we have won three titles and three runners-up. We still don't want to be easily satisfied because there are still many tournaments ahead that we want to achieve. One of them is the World Championship," – ARDIANTO
The End of The Championship and What Follows in 2023

The PERODUA MALAYSIA MASTERS 2022 Presented by DAIHATSU closed on a high note, which ended in favor for both the Indonesian and Chinese players who each won two out of the five titles at the Axiata Arena in Kuala Lumpur. Energies were high with both fans and players with memorable plays and techniques showcased by many players. Returning champions like ZHENG/HUANG gave it their all despite the challenges they faced from exhaustion, while Indonesian favorites like ALFIA/ARDIANTO went head on with their fellow countrymen AHSAN/SETIAWAN, and of course AN Se Young's achievement in nabbing the gold and becoming the first South Korean woman to secure the title.
It cannot be denied that competition remained fierce amongst finalists as fans held on to the edge of their seats waiting for this year's champions to emerge and be crowned. Ultimately, all players truly gave it their all and played with passion throughout the tournament, celebrating and welcoming of loyal fans after a long absence due to the pandemic.
Many booths and activities were set up in the Axiata Arena to welcome back excited fans. A PERODUA car display showroom was set up at the front entrance displaying the latest models, along with an interactive booth for fans to stand a chance to win various goodies and participate in an exclusive Meet & Greet where lucky fans were able to meet the famous Women's Doubles Yuki FUKUSHIMA and Sayaka HIROTA from Japan; and Malaysia's Men's Doubles players - Junaidi ARIF and Muhammad HAIKAL, and GOH Sze Fei and Nur IZZUDDIN.

This year's tournament would truly not be the same without the return of the beloved Malaysian fans and their participation in not just attending the games, but also taking part in the live booths and fun activities set up during the PERODUA MALAYSIA MASTERS 2022 Presented by DAIHATSU.
As one of Malaysia's leading brands, PERODUA and DAIHATSU wish to thank BAM for a successful installment of the wonderful tournament that brought excitement and smiles to fans as well as the organizers and players.