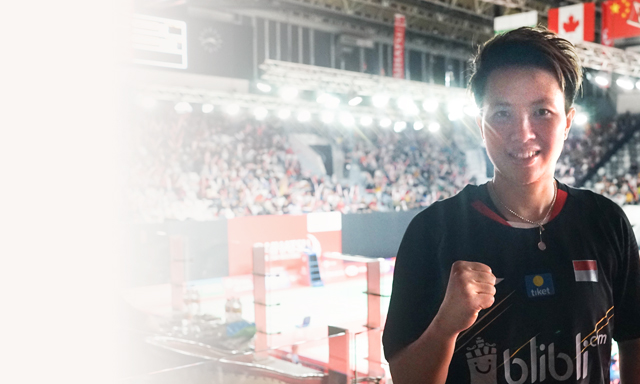 DAIHATSU INDONESIA
MASTERS 2019 Tournament
Recap by Liliyana NATSIR
Date:22nd – 27th, January 2019
Venue:Istora Senayan (Jakarta, Indonesia)
The DAIHATSU INDONESIA MASTERS 2019 as seen by Liliyana NATSIR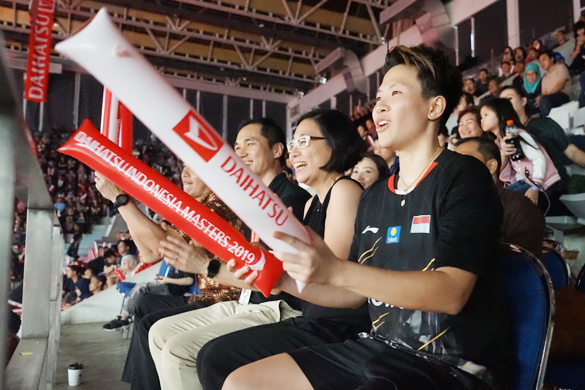 The second edition of the DAIHATSU INDONESIA MASTERS was concluded on a high note with thousands flocking to the famous Istora Senayan to cheer their favourite stars from 22th to 27th January 2019. As always, Istora Senayan provided the perfect setting and atmosphere for players to shine. With thousands of fans chanting and cheering their names, the pressure to deliver was even greater and could easily rattle their games. There were plenty of actions, thrills, spills, victorious as well as devastating moments. For me, it was truly an honour to be part of the DAIHATSU INDONESIA MASTERS for the second year in a row. After two decades, it's time to put an end and I look forward to having more memorable moments in another chapter of my life.
It was good to see the domination of Marcus Fernaldi GIDEON and Kevin Sanjaya SAKAMULJO, who brought cheers to the Indonesian camp with their second straight title victories. Two other doubles pair – ZHENG Siwei-HUANG Yaqiong and Misaki MATSUTOMO-Ayaka TAKAHASHI – were also in impressive forms and looked set to rule in their respective departments in many more years to come!
The game results of world-top players
The Men's Singles: Patience pays off for ANTONSEN, MOMOTA stunned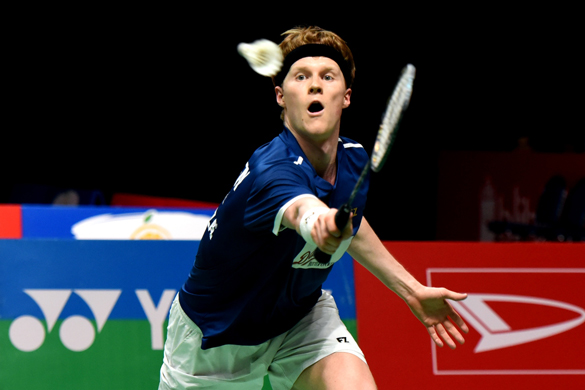 There were no Indonesian representatives in sight, but the Kento MOMOTA-Anders ANTONSEN final duel certainly provided a thrilling treat, which kept fans at the edge of their seats throughout the 79-minute final battle. The Danish young player kept his composure, playing with patience and a well-planned strategy, which often caught MOMOTA off guard. ANTONSEN was clearly composed throughout the final, showing a good footwork and provided an excellent coverage of the court.
After winning 21-16 in the first game, ANTONSEN lost focus in the second game with MOMOTA upping his speed to gain control over ANTONSEN. The decider however saw MOMOTA committing too many errors with ANTONSEN resorting to sending the shuttlecock deep to the baseline to prevent MOMOTA from making his trademark smashes. With the gap widened to 11-8 at interval, it was evident that MOMOTA was running out of steam, at times struggling to return the shuttlecock, which puts ANTONSEN in the control and went on to win 21-16. It's definitely a huge achievement for ANTONSEN, who became the first European player to have won the title at Istora Senayan.
The Women's Singles: NEHWAL earned the first title - but bad day for MARIN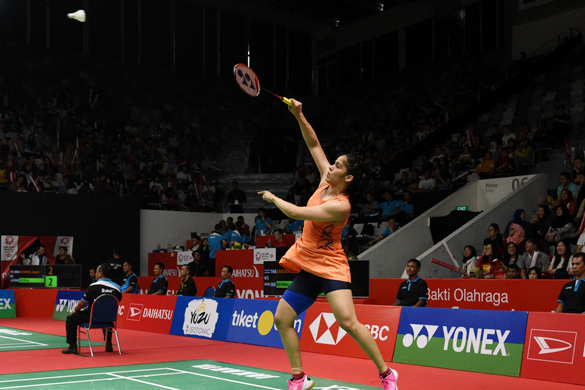 It was supposed to be one of the main highlights of the tournament with both Carolina MARIN of Spain and India's Saina NEHWAL bent on winning the Super 500 series title, especially for NEHWAL, whose campaign in the recently concluded PERODUA MALAYSIA MASTERS 2019 presented by DAIHATSU was halted by MARIN at the semifinals stage. The Spanish ace played well in the preliminary and knockout rounds with her brands of aggressive and attacking display, to eventually book a slot in the finals. However, it was not meant to be when MARIN unfortunately suffered injuries on her leg in the middle of the first game where she was clearly dominating and leading NEHWAL 7-2. MARIN set up a fast-paced game, keeping NEHWAL at bay with her aggressive attacks, precision and good net play as well as a solid defence which continuously frustrate NEHWAL.
The final duel ended prematurely, following MARIN's injury, which gave the NEHWAL and India their first Indonesia Masters title. It was not a great way to win but NEHWAL certainly earned the victory following a consistent display throughout the tournament and should be congratulated for a job well done!
Men's Doubles: Minions in a league of their own!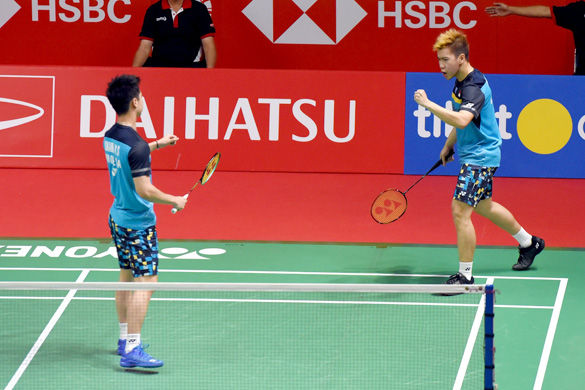 At Istora Senayan, the fans were in euphoria as the world number one pair Marcus Fernaldi GIDEON-Kevin Sanjaya SAKAMULJO took on Mohamad AHSAN-Hendara SETIAWAN in an all-Indonesian final. Being in the same camp, both pairs knew each other's game well enough but in the end, GIDEON-SAKAMULJO were too good for AHSAN-SETIAWAN as they cruised to an easy 21-17, 21-11 victory in just 25 minutes.
There were flashes of brilliance in the first game, which saw AHSAN and SETIAWAN briefly troubling the world number one. But, GIDEON-SAKAMULJO were in no mood to allow their opponent get the upper hand. As always, their court coverage was outstanding, leaving little gaps for AHSAN-SETIAWAN to penetrate their rock-solid defence or force them into making errors. With 20 Superseries/Super500 titles in their bag thus far, including the PERODUA MALAYSIA MASTERS 2019 presented by DAIHATSU, the Indonesian top pair proved themselves invincible and are set to rule the world stage in many years to come!
Women's Doubles: MATSUTOMO-TAKAHASHI continue to rule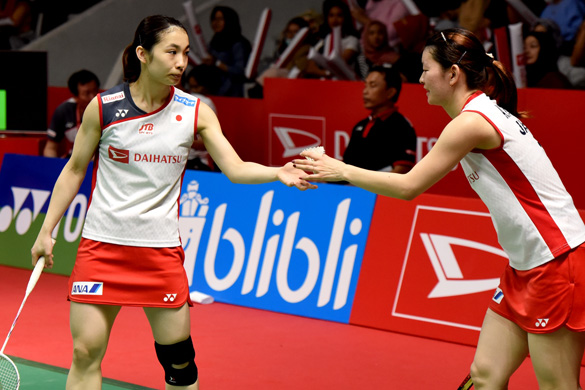 Japan's stronghold in the women's doubles remained intact with Misaki MATSUTOMO and Ayaka TAKAHASHI successfully retaining the title they won last year. Against Korea's top pair of KIM So-Yeong-KONG Hee Yong, the Japanese were given a run for their money when they were tied 17-17 after taking a commanding 7-point lead in the first game. Their vast experience in handling such situation was what saved them from declining further as they went on to seal the game 21-19.
Some tactical changes ensued with the Japanese pair increasing the tempo of the game, which forced the Koreans into a defensive mode. And this clearly gave them the advantage as it suited their attacking style of play. Both MATSUTOMO and TAKAHASHI will definitely be looking forward to defending their 2016 Olympics gold medal feat next year. Japan's strength in the women's doubles is evident after winning 11 out the 12 women's doubles titles in the Super 500 or higher tournament.
Mixed Doubles: Hats off to ZHENG and HUANG, emotional exit for us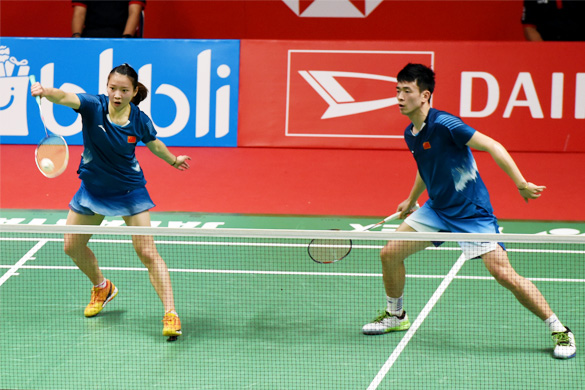 As I stepped onto the courts for my final duel against the reigning champion and world number one ZHENG Siwei-HUANG Yaqiong, my heart was pounding and my emotion mixed with joy and sadness. The fans have been great throughout my career and a victory in my last appearance at Istora Senayan is a perfect gift to them. However, it was not meant to be as both my long-time partner Ahmad TONTOWI and I eventually stumbled yet again at the hands of the formidable ZHENG and HUANG. We played hard with a combination of tactics in the three-game battle which lasted 56 minutes. We managed to contain our opponents in the first game with few mistakes and ensuring that every shot was not wasted.
However, going into the second game, it was intense as at one time, it looked like we're heading for the podium after getting out to an 18-14 lead before letting our opponents pull the brakes on us with a 6-point run. We tried hard to contain them and close the gap but to no avail and eventually had to concede a 21-19, 19-21,16-21 defeat. It was my 798th match, out of which I had won 600. I felt bad for not being able to bring the joy of victor, to my fans. My badminton journey has now come to an end and I wish all the players and badminton fraternities all over the world all the best!
Interviews with Winners
Anders ANTONSEN (Men's singles Champion)
It's simply amazing as ever since I started playing badminton at the age of six, I've always been dreaming about winning one of these big titles. It happened today..it's really insane and a dream come true…I can't even describe how good it feels to win especially here at Istora Senayan, which is the greatest place on earth to play badminton in. I knew that a player like Kento MOMOTA has all the qualities to win but I kept my calm and avoid making errors. I'd like to thank all the fans and spectators for their support!
Misaki MATSUTOMO-Ayaka TAKAHASHI (Women's Doubles Champion)
It was a tight game especially in the first game. We knew that the Korean pair are a tough one to crack and we had to make sure our tactics would work well. There were no room for mistakes so, we were careful with every shot. It's been a great tournament here at Istora Senayan and with the Olympic Games drawing closer, we need to remain focused and continue to work hard.
ZHENG Siwei-HUANG Yaqiong (Mixed Doubles champion)
It must have been one of our toughest matches against TONTOWI-LILIYANA as the crowd were solidly rallying behind them. We were down in the first game and it was really intense. We had to remain calm and composed, and change our tactics to force a decider. The score was running neck-to-neck in the decider but we managed to avoid mistakes, and most importantly, rely on our power and speed to get better than our opponent. We wish to thank the host for a great tournament here and we wish Liliyana all the best in her future endeavour!
Final Match List
| Category | Player name | Match results |
| --- | --- | --- |
| Men's Singles | Anders ANTONSEN (2-1) Kento MOMOTA | 21-16, 14-21, 21-16 |
| Women's Singles | Saina NEHWAL - Carolina MARIN | 4-10, retirement |
| Men's Doubles | Marcus F. GIDEON / Kevin Sanjaya SUKAMULJO (2-0) Mohammad AHSAN / Hendra SETIAWAN | 21-17, 21-11 |
| Women's Doubles | Misaki MATSUTOMO / Ayaka TAKAHASHI (2-0) KIM So Yeong / KONG Hee Yong | 21-19, 21-15 |
| Mixed Doubles | ZHENG Siwei / HUANG Yaqiong (2-1) Liliyana NATSIR / Tontowi AHMAD | 19-21, 21-19, 21-16 |
The end of the tournament and towards 2020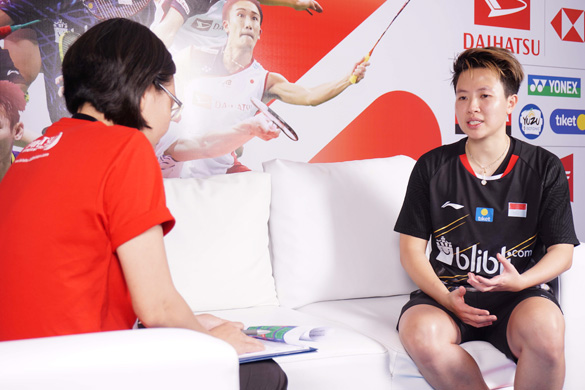 The DAIHATSU INDONESIA MASTERS 2019 ended successfully with players, contingents and fans heading home with many memorable moments. It was a great and vibrant sporting show with thousands of enthusiastic spectators thronging at Istora Senayan from the day one. On the courts, the tournament again proved the invisibility of three top pairs, namely GIDEON-SAKAMULJO, MATSUTOMO-TAKAHASHI and ZHENG-HUANG, who successfully defended their title to head home as the winners for the second consecutive time. Since the tournament's inception in 2010, Indonesia has won 22 titles with men's doubles recording the highest victories (8 titles). Six were won in the men's singles, six in mixed doubles and one each in women's singles and women's doubles.
Off the courts, there were plenty of colourful and carnival-like activities to help in the promotion of the sport and tournament. Activities promoted by the main sponsor DAIHATSU such as the Spin-to-Win contests, quizzes as well as meet-and-greet sessions provided opportunities for fans to interact closely with their badminton idols like Ahmad TONTOWI, Jonatan CHRISTIE, Liliyana NATSIR, Koharu YONEMOTO, Keigo SONODA and Takuto INOUE. There were many happy faces as some 9,600 items which include prizes, freebies and giveaways such as car stickers, T-Shirts, jackets, hand duster, pouch, mini nail clippers, cutlery sets and lanyards were distributed to fans. The DAIHATSU Terios and DAIHATSU Xenia were also put on display to allow fans and spectators to get a closer look and feel of DAIHATSU's latest edition of stylish vehicles.
With the successful organisation of this year's tournament, I'm looking forward to be among the fans to cheer our players in next year's edition! To my fans in DAIHATSU Facebook Page, I thank you for your support and being there with me at Istora!
TRIBUTE
INDONESIA's Liliyana NATSIR is regarded as one of the best mixed doubles players of all time. Having tasted victories in practically all the major tournaments in the world, Liliyana, 33, officially announced her retirement from the sport, ending a long and illustrious career. Along with the partner Tontowi AHMAD, both have scaled badminton's highest peak and billed as one of the best mixed doubles players Indonesia has ever produced. Here, Liliyana describes her 22-year badminton journey.…


――10 years with Tontowi AHMAD, you've practically reaped all of the world's major titles, including the Olympics, World Championships, All-England, World Cup, Asian Championship, SEA Games, Asian Games, as well as 23 Super Series. It was undoubtedly a remarkable achievement. Describe your badminton journey, your ups and downs and what really drives you to success?
The journey for a sports person like me is full of ups and downs. In fact, there are times when you feel that nothing can stop you from scaling the highest peak, but I've had my fair share of bad moments too. What's important is to always believe in yourself, quickly get back on your feet whenever you're at rock bottom and challenge yourself harder. There are so many lessons to be learnt in defeat, but never, at any point, give up. When you're on top on the world, always be humble, be thankful.

――When did the thought of retiring first comes to your mind? What exactly was the main reason behind your decision to retire after the DAIHATSU INDONESIA MASTERS 2019?
Frankly, I've reached the peak of my career and achievement two years ago when we won the 2016 Rio Olympics gold medal. That was my ultimate dream, and I've tasted it. After that, I thought that it was a perfect time for me to put it to an end, to retire when you're still at the pinnacle of your career. However, the idea of retiring at that stage was quickly shot down by my coach, and partner Tontowi as well my whole family in the Indonesian badminton camp. They went on to encourage me to stay on and continue playing as the country still needs my services.

――What was Tontowi's first reaction when told that you're retiring for good?

Tontowi was among the firsts who rejected my plan as he felt that we still have a few more good years and stay at least in the top four ranking in the world. He convinced me to play on for at least another 2 years.

――How difficult was it to make a public announcement on your retirement?
It was indeed very difficult, as I'm quite worried on the effects it would have on my career. I can't imagine life without badminton, all the daily grind, routines, tournaments and practice sessions. On top of it all, it was really difficult for me to leave my big family and fellow sports persons in the national camp. I'm indebted to all my fellow players, fans and the amazing people at PBSI.

――Who do you look up to as role model, a person who constantly motivates and inspires you to succeed not only in badminton as well as in life?
I've never actually had any role model or anyone who has a big influence in my life as a shuttler for 22 years. My principle is discarding all the bad influence in my life and to always learn from whatever good things that I've seen or experienced.

――Who do you think will be the next mixed doubles powerhouse, say over the next five years?
At this point of time, it's difficult to make any predictions as the sport is evolving rapidly with the emergence of many promising young players. I'm hoping that Indonesia will continue to unearth more young and potential talents in the mixed doubles.

――Any plans after retirement? Perhaps, taking a well-deserved break or simply dive straight into coaching, or badminton management? Will you still be involved in badminton in anyway?
No, not specifically. I have to learn to break away from my routines as a player and start a new life as normal person. Following my gold medal feat in Olympics two years ago, I have been busy preparing for life after badminton and has been involved in a few business commitments. As for coaching, it's still too early to say or decide on anything related to badminton management. I need to focus on my business ventures and that would definitely be time consuming.

――Any final message to your fans?

To all my fans in the DAIHATSU Facebook Page, my sincere appreciation for your undivided support and thank you for being there with me through thick and thin. You've given me strength and purpose in life, and I look forward to re-connect with all my fans in other occasions in future. Thank You!
Liliyana NATSIR

Liliyana NATSIR is regarded as one of the world's greatest and most successful mixed doubles players. She is retired but her legacy as Indonesia's greatest mixed doubles player, who have won accolades and medals in many of the world's major competitions, lives on. Born in Manado in 1995, Liliyana, with Tontowi AHMAD as partner since 2010, has won gold medals at the 2016 Olympic Games, three-time World Champion, All-England and Asian Championships.