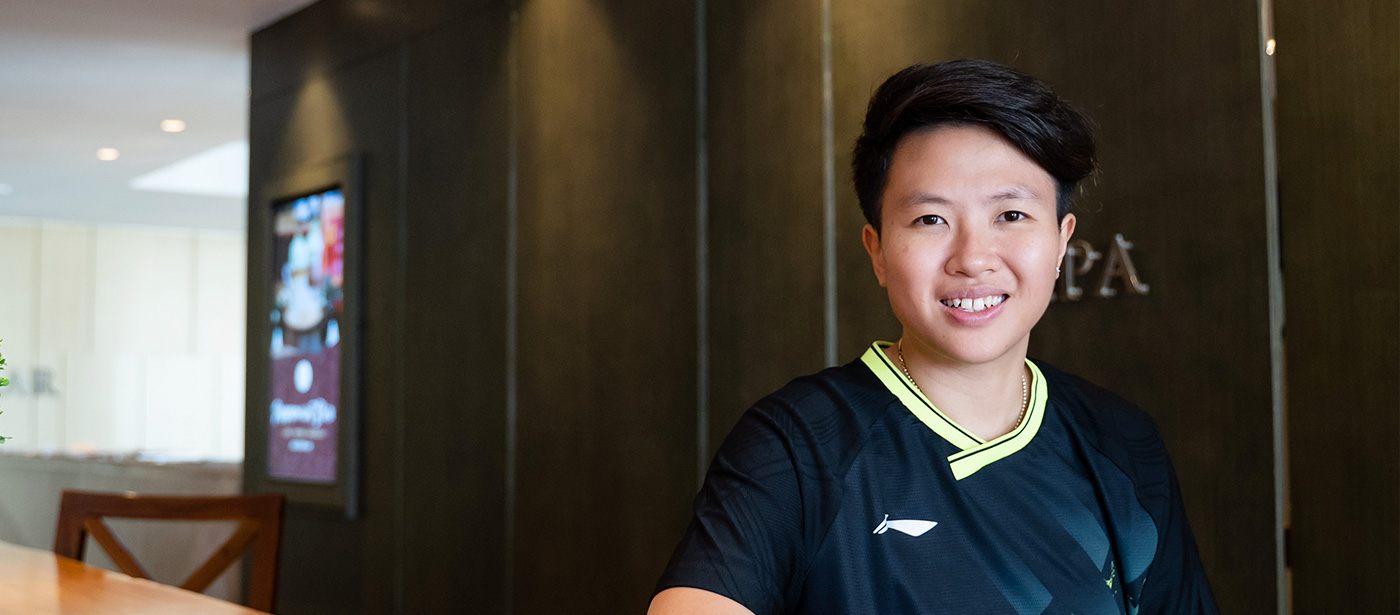 DAIHATSU INDONESIA MASTERS 2020
Liliyana NATSIR's pre-tournament report
It's the time of the year when thousands of fans get together at the Istora Senayan to cheer their badminton heroes for the DAIHATSU INDONESIA MASTERS 2020. Starting from 14th to 19th January 2020, the world's top badminton stars will appear in Jakarta for BWF's second major tournament of the year. This tournament is a collaboration between the Persatuan Bulutangkis Seluruh Indonesia(PBSI) and DAIHATSU. We now enter the third season with DAIHATSU committing to a two-year extension as title sponsor until 2021.

Former mixed doubles star, Liliyana NATSIR, shares her feelings on the upcoming encounters and what you can expect. With the tournament prize money now at USD400,000, which makes the tournament even more attractive to world players in the top 10, as well as future stars.
Great moments for the prestigious DAIHATSU INDONESIA MASTERS 2020

Istora Senayan will once again be in the spotlight as the world's top badminton players battle it out in Jakarta at this prestigious BWF World Tour Super 500 tournament. The DAIHATSU INDONESIA MASTERS has always been special to the local players and fans, so I'm truly honoured to be part of the DAIHATSU "family" as the ambassador of the tournament. I remember sweet memories personally and professionally. What's truly amazing and unforgettable is the love shown by our fans and spectators, who continuously inspire the players to push themselves to the limit. It's a wonderful feeling which no words can describe.
Liliyana NATSIR's prediction and assessment

The last two years of the DAIHATSU INDONESIA MASTERS saw amazing achievements by the home shuttlers. Following the first battle round in Malaysia for the PERODUA MALAYSIA MASTERS 2020 Presented by DAIHATSU, players are expected to keep their momentum going as Olympics qualifying points are at stake. We expect exciting times in this year's DAIHATSU INDONESIA MASTERS 2020.
Liliyana NATSIR looks out for these players!
Men's singles: Can Anthony GINTING live up to expectations?

2018 winner Anthony Sinisuka GINTING will again rise and deliver the men's singles title for the second time. Last year (2019), GINTING's winning streak was stopped at the quarterfinals stage, at the hands of Kento MOMOTA. The 2020 edition on home soil could see GINTING, the 2019 Hong Kong Open and China Open finalist, turn the tables through the inspiration and motivation from the roaring and enthusiastic supporters at Istora Senayan.

We can expect MOMOTA, who had lost out to the winner ANTONSEN in the last tournament, to be in high spirits and highly charged as he seeks to further consolidate his standings at the top of the world in Jakarta. Jonatan CHRISTIE, who lost out to MOMOTA in the finals of the 2019 DAIHATSU YONEX Japan Open, has a great chance of winning in 2020.
Women's Singles: TAI'S back and ready to stake claim for second title

After the 2019 edition abecense, TAI Tzu Ying returns to Istora Senayan and is expected to take for the women's singles title. The 2018 champion, however, needs to be at her best against her mighty rivals, which include Japan's Nozomi OKUHARA.

With all the top 10 players, on-court competition is expected to be close and stiff with Japanese and Chinese aces like Akane YAMAGUCHI and CHEN Yufei, along with Thailand's Ratchanok INTANON and 2019 champion Saina NEHWAL and finalist Carolina MARIN (world number 6).

Indonesia will once again rely on Gregoria Mariska TUNJUNG to shine and go beyond the second-round hurdle, while GOH Jin Wei will be Malaysia's best hope to make an impact.
Men's Doubles: Minions all charged up, gunning for hat-trick feat

The last two years have seen Marcus Fernaldi GIDEON and Kevin Sanjaya SUKAMULJO dominating the DAIHATSU Indonesia Masters with great success. The duo, known as "the minions", have been unbeatable in 2018 and 2019 and a hat-trick feat is played when the third edition of the tournament commences on 14th January. GIDEON and SAKAMULJO are way ahead of the other players in the world ranking, accumulating more than USD1 million in prize money thus far.

However, things could turn out differently for the Indonesian pair due to the intense atmosphere and the need for players to gather valuable points for the Olympics qualification. A strong challenge could come from Indonesian Fajar ALFIAN-Muhammad Rian ARDIANTO while China's top pair of LI Jun Hui-LIU Yu Chen, the 2019 losing finalist, are expected to give a strong challenge to stop Indonesia's winning streak in the men's doubles.
Women's Doubles: Can POLLI-RAHAYU break Japan's domination?

With four Japanese pair consistently filling up the top four spots in the world ranking, Greysia POLII and Apriyani RAHAYU stood out as the best candidates to break Japan's continuous domination in women's doubles. A tall order indeed for the Indian Open champion, who lost out to world number two and eventual champion Misaki MATSUMOTO and Ayaka TAKAHASHI in the semi-finals.

Leading the top players will be the formidable pair of Yuki FUKUSHIMA-Sayaka HIROTA, winner of the 2019 China Open. Mayu MATSUMOTO-Wakana NAGAHARA are expected to be up among the best as the current world champion.
Mixed doubles: ZHENG-HUANG will play hat-trick

Following the retirement of Liliyana NATSIR at the closing of the 2019 tournament, the absence of the mixed doubles legend, Liliyana NATSIR-Tontowi AHMAD will surely open the path for their rivals to charge to the front. Meanwhile, TONTOWI's partnership with Winny Oktavina KANDOW has yet to bear significant and desired results. Without any strong challengers, top Chinese pair ZHENG Siwei-HUANG Ya Qiong will likely rule on-court and garner their third consecutive DAIHATSU INDONESIA MASTERS title after winning the 2018 and 2019 tournaments. It will be up to Yuta WATANABE-Arisa HIGASHINO and Malaysian pair, CHAN Peng Soon-GOH Liu Ying to give the Chinese pair a run for their money in the week-long tournament. Will they succeed?
Get ready for some unexpected results, watch out for these players

The stage is all set for the players to show their talents but there are more players with great skills. India are coming up strong with formidable power in the men's and women's singles while Denmark will continue to be among the main contenders with great depth in men's singles (Viktor AXELSEN, Anders ANTONSEN) and men's doubles (Kim ASTRUP-Anders RASMUSSEN). Also, watch out for Taiwan Open and Indonesian champion CHOU Tien Chen (men's singles) along with men's doubles pair CHEN Hung Lin-WANG Chi Lin, the 2019 World Championship semi-finalist.
Get your tickets early and head over to Istora Senayan from 14th to 19th January 2020 for an exciting badminton tournament

The magical and electrifying atmosphere at Istora Senayan will again be the topic of the town as players gear themselves up for another explosive DAIHATSU INDONESIA MASTERS action this January 2020. The loud cheers and roar from thousands of spectators at the venue can be extremely deafening and intimidating for visiting players. With precious Olympics qualifying points on offer, the stakes are now higher and on-court battles are expected to be even more exciting than before!
Liliyana NATSIR

Liliyana NATSIR is regarded as one of the world's greatest and most successful mixed doubles players. Having retired soon after the 2019 edition of the DAIHATSU Indonesia Masters, Liliyana continues to be part of the tournament as ambassador or spokesperson. Her legacy as Indonesia's greatest mixed doubles player, with unimaginable victories and feats, lives on. Born in Manado in 1985, Liliyana, with Tontowi AHMAD as partner since 2010, has won gold medals at the 2016 Olympic Games, three-time World Champion, All-England and Asian Championships.