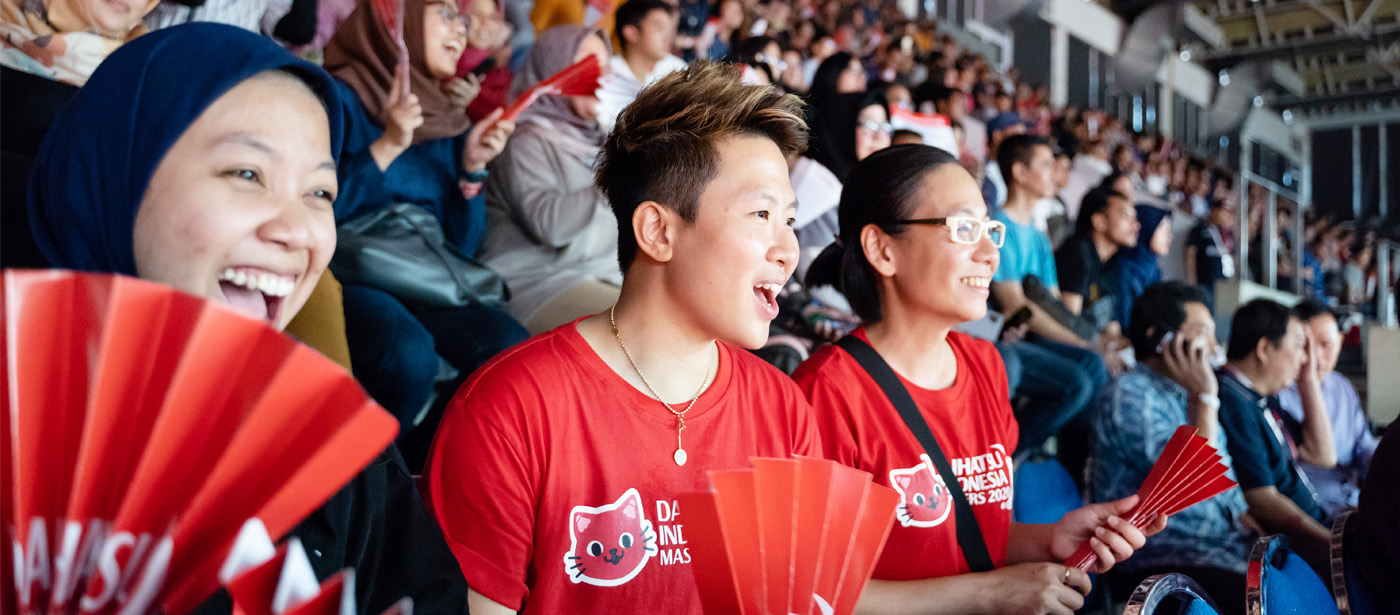 DAIHATSU INDONESIA MASTERS 2020 Presented by DAIHATSU
Part of the HSBC BWF World Tour Super 500
Date: Tuesday, 14th – Sunday, 19th January 2020
Venue: Istora Senayan, JAKARTA, INDONESIA
Fans thrilled to bits as host sweeps major share of titles in DAIHATSU INDONESIA MASTERS 2020!

The DAIHATSU INDONESIA MASTERS 2020 is part of the HSBC BWF World Tour Super 500 which was held following the conclusion of the PERODUA MALAYSIA MASTERS 2020 Presented by DAIHATSU.
In a badminton-loving nation, where players were seen with celebrity status and respected by many, DAIHATSU INDONESIA MASTERS 2020 never cease to amaze and provide badminton fans with a week-long top-class badminton celebration at the Istora Senayan. The atmosphere was fun and filled with entertaining performance, which climaxed in the finals. The tournament sparkled with all top stars to compete in a highly-competitive match from 14th to 19th January 2020. On top of it all, for local fans, it will be long remembered as a tournament which saw the domination of Indonesia who appeared three out of the five finals contested.
Final Match Results
| Category | Player name | Match results |
| --- | --- | --- |
| Men's singles | Anthony Sinisuka GINTING (Indonesia) 2-1 Anders ANTONSEN (Denmark) | 17-21 / 21-15 / 21-9 |
| Women's singles | Ratchanok INTANON (Thailand) 2-1 Carolina MARIN (Spain) | 21-19 / 11-21 / 21-18 |
| Men's Doubles | Marcus Fernaldi GIDEON / Kevin Sanjaya SAKAMULJO (Indonesia) 2-0 Mohammad AHSAN / Hendra SETIAWAN (Indonesia) | 21-15 / 21-16 |
| Women's Doubles | Greysia POLII / Apriyani RAHAYU (Indonesia) 2-1 Maiken FRUERGAARD / Sara THYGESEN (Denmark) | 18-21 / 21-11 / 23-21 |
| Mixed Doubles | ZHENG Si Wei / HUANG Ya Qiong (China) 2-0 WANG Yi Lyu / HUANG Dong Ping (China) | 21-9 / 21-9 |
Reporter:Liliyana NATSIR

Liliyana NATSIR is regarded as one of the world's greatest and most successful mixed doubles players. Having retired soon after the 2019 edition of the DAIHATSU Indonesia Masters, Liliyana continues to be part of the tournament as ambassador or spokesperson. Her legacy as Indonesia's greatest mixed doubles player, with unimaginable victories and feats, lives on. Born in Manado in 1985, Liliyana, with Tontowi AHMAD as partner since 2010, has won gold medals at the 2016 Olympic Games, three-time World Champion, All-England and Asian Championships.
The game results of world-top players
Men's singles: GINTING GRASPED THE KING'S CROWN

Losing in five finals last year must have been extremely frustrating for Indonesian singles ace Anthony Sinisuka GINTING. But at Istora Senayan, which were filled with spectators on the final day encounter, GINTING managed to win over former champion Anders ANTONSEN 17-21, 21-15, 21-9, which he immediately dedicated to his beloved mother and siblings who had come far from Cimahi in Bandung to watch GINTING in action. It was an entertaining game of power, smashes and brilliant net play with ANTONSEN looking ready to upset the home favourite after leading the first set 21-17. His fast movement and good defence were his trademarks. But it was short-lived after GINTING clawed back into the game using his aggressive style of play with lots of smashes and net play which rattled ANTONSEN. GINTING was a totally different player in the decider with ANTONSEN failing to match the Indonesian in all department and finally succumbed to an easy 9-21 loss to the Indonesian. It was wonderful to see GINTING back on the podium as a winner after his last trophy in China Open in 2018. Nothing beats the pleasure of winning the title in the home crowd.
Women's singles: INTANON REDEEMS FRUSTRATION WITH FIRST WIN OF THE YEAR

It was heartening to see Ratchanok INTANON back at the DAIHATSU INDONESIA MASTERS 2020 following her performance in Malaysia where she failed to get past the second round. In Jakarta, the former champion (2010 Indonesian Masters) was back to her old self and ruled the courts at Istora Senayan, starting off by beating China's CAI Yan Yan in the first round. In a high-intense and absorbing women's singles final, INTANON displayed her might over her rival and Olympic champion Carolina MARIN of Spain, who suffered an ACL injury in the same final last year. INTANON excelled where MARIN failed, with great touches at the net and keeping MARIN continuously under pressure. Both had the same attacking play and had to outwit each other with fast games and quick moves. At times, MARIN was overly aggressive, which led to mistakes. INTANON was a kept calm and composure, which enabled her to get the better of MARIN in three sets of 21-19, 11-21, 21-18.
Men's Doubles: IT'S MARCUS-KEVIN AGAIN!

It was a sweet hat-trick feat as both Marcus Fernaldi GIDEON and Kevin Sanjaya SUKAMULJO once again displayed mighty qualities and their status as the world number one. Winning their title three times in a row, the Indonesian ace pair were simply in a league of their own, invincible and unmatchable. In an all-Indonesia final act against compatriot pair Mohammad AHSAN-Hendra SETIAWAN, the Minions were simply superior to their compatriot, controlling the game play by continuously pressing their opponents at bay, leaving their rival breathless and rattled. It was a straight forward match with convincing 21-15, 21-16 win in just 32 minutes!
Women Doubles: POLII-RAHAYU SENT FANS INTO A FRENZY WITH HISTORIC WIN

No words can describe the pleasure of thousands of fans repeatedly chanting their names after their historic first win at Istora Senayan that Sunday final. Indonesian women's pair Greysia POLII-Apriyani RAHAYU themselves too could not contain their emotion the moment they hit their winning points in a thrilling three-setter finals which saw them beating the towering Danish pair of Maiken FRUEGAARD-Sara THYGESEN 18-21, 21-11, 23-21. It was their strong defence which kept them intact and ended up with the champion's trophy in their hands while the Danes were left to regret after failing to receive after holding match points at 20-19 and 21-20. Apart from their solid defence, the Indonesian players dragged and tortured the Danish pair with their long rallies which worked out well for Indonesia in the end.
Mixed doubles: ON TOP OF THE WORLD, ANOTHER HAT-TRICK FEAT BY ZHENG-HUANG

An all-Chinese encounter and a repeat of the finals in Malaysia turned to be a tame affair which saw world number one ZHENG Si Wei-HUANG Ya Qiong yet again rule the world by brushing aside their closest rival WANG Yi Lyu-HUANG Dong Ping at Istora Senayan. It was clear and easy win of 21-9, 21-9 in just 25 minutes which proof their dominance in the mixed doubles. Prior to ZHENG-HUANG's first taste of victory in 2018, China have been in the backwaters in the the mixed doubles competition with Indonesia dominating from 2012 to 2017. This tournament saw China dominating the mixed doubles scene and with the present scenario, it looks unlikely that their rivals can break ZHENG-HUANG's domination on the courts in the near future. With an-all round strength and great depth in technical skills, their opponents will need to dig deep into their reserves to put a stop to their dominance.
WORLD PLAYERS CONTINUE THEIR PURSUIT FOR HONOURS IN GLOBAL BADMINTON SCENE

Indonesia, following the conclusion of the DAIHATSU INDONESIAN MASTERS 2020, became the talk amongst badminton fans after winning three out of the five finals at Istora Senayan. It was a show of solidarity and colourful celebration as thousands came up in big numbers to show their support to the local heroes in this badminton-mad nation. It was a contrast as China, which had ruled the finals (three out of five finals) in Malaysia, had their mixed doubles pair of ZHENG-HUANG to thank for and save them from blushes. Ratchanok INTANON and Carolina MARIN in the women's singles and ZHENG-HUANG prevented the host from taking dominance. For other seed players including Jonatan CHRISTIE, Viktor AXELSEN, LEE Zii Jia, SHI Yuqi, Akane YAMAGUCHI, PUSARLA V. Sindhu and the pair of CHAN Peng Soon-GOH Liu Ying, there will be no time to stop as they gear themselves for upcoming battles.
Interviews with Winners
Anthony Sinisuka GINTING

(Men's Singles Champion)

This is definitely one of the highlights of my career, winning on home soil in front of my very own home fans. What made it even more memorable was the presence of my mother and siblings who came all the way from Cimahi to lend their support. After five finals last year, I'm happy to finally clinch this sweet victory. ANTONSEN was a hard opponent from the start, he was overly aggressive with his shots and play, leaving me stunned. But in the end, he got tired and I took advantage of the situation, raining him with smashes to further tire him down. I haven't tasted victory for quite some time and this win is truly sweet.
Greysia POLII / Apriyani RAHAYU

(Women's Doubles Champion)

The final match was intense, and it was clear that FRUERGAARD-THYGESEN made full use of their power game and hard smashes to pin us down in the first set. But we gave our all in the second set as the crowd were rallying solidly behind us. When we stepped onto the court, our main aim was simply to better our performance without thinking too much on the results. We were under intense pressure, but they were clearly just enjoying their game. It was a really close game especially in the last set where they were holding the match points. We defended well and struck hard at even their slightest mistakes. Words can't describe how much I treasure this first win at the Istora Senayan.
Marcus Fernaldi GIDEON / Kevin Sanjaya SAKAMULJO

(Men's Doubles Champion)

We've played against AHSAN-SETIAWAN so regularly that we know each other's steps and moves. It was our tenth meeting and we've won all of them. Our tactic is to pressure them hard and keep pulling away with points to frustrate them. Consistency and speed have always been the two key elements in our games. When you've made it into the finals, you are on the same field against your opponent. It's how you approach the game that makes the difference.
The end of the tournament and towards 2021

The DAIHATSU INDONESIA MASTERS 2020 concluded on a fruitful event for the host who won three titles out of the five contested at the Istora Senayan. Making it a memorable feat was the victory by Anthony Sinisuka GINTING who ended his "jinx" after winning his first title since the Victor China Open in September 2018. Even sweeter was the victory of doubles pair of Greysia POLLI-Apriyani RAHAYU on home soil which certainly becomes their confidence for its coming missions of toppling China and Japan's domination in the women's doubles competition. Men's pair Marcus Fernaldi GIDEON and Kevin Sanjaya SAKAMULJO are expected to continue to rule at the top and if the current performance is anything to go by, the pair are expected to be at the pinnacle of the sport in the coming seasons. Denmark has shown much improvement with the rise of its women's pair while China, Japan, Malaysia and South Korea will remain as the main threats to Indonesia's ambition.
Fans, spectators and guests were treated with many off -the -court actions and excitement around the arena with DAIHATSU getting down to the ground to engage with the masses through many community activities and fan sessions with star shuttlers. Istora Senayan and its vicinity was a hive of the activity as fans flocked the arena in thousands to join in the excitement of the 2020 edition of the tournament. Free gifts were distributed while DAIHATSU's latest vehicles were put on a show to enable fans and the public to have a close look and feel of DAIHATSU's latest editions. All in all, it was a fun day on and off the courts throughout the six-day tourney which has cemented DAIHATSU's presence as among Indonesia's leading brands.