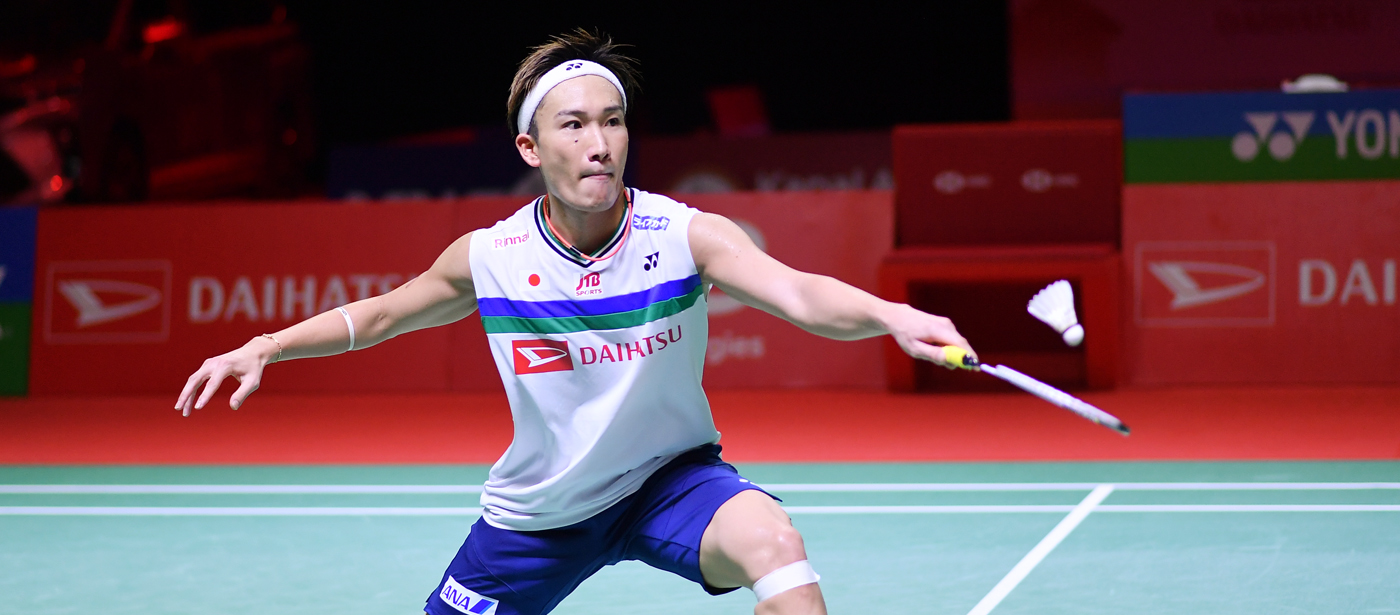 DAIHATSU INDONESIA MASTERS 2021
Part of the HSBC BWF World Tour Super 750
Date: Tuesday,16th – Sunday, 21st December 2021
Venue: The Westin Resort, Nusa Dua, Bali, INDONESIA
This year, the DAIHATSU INDONESIA MASTERS 2021 was upgraded to HSBC BWF World Tour Super 750 series and was the first of 3 tournaments held during the Indonesia Badminton Festival in Westin Nusa Dua Bali, Indonesia.

DAIHATSU INDONESIA MASTERS 2021 continues its legacy to amaze and provide badminton fans with a week-long top-class badminton celebration. The Covid-19 measures resulted in a silent court atmosphere, which was an unusual experience for this tournament. The exuberant cheers and claps of the passionate Indonesian fans were dearly missed especially by the Indonesian players. Despite this, the competition was just as riveting with all top stars battling it out and giving their best performance.
DAIHATSU wishes to thank PBSI and The Westin Resort, Nusa Dua, Bali for successfully organizing a wonderful event in compliance with BWF's bubble system and Ministry of Health Indonesia's strict procedures. The bubble environment allowed the players to safely train, mingle and get to know each other better, amidst a fun-filled atmosphere complemented with the 5-star hospitality of The Westin Resort, Nusa Dua Bali, Indonesia. This will surely be a most memorable event indeed.
Final Match Results
| Category | Player name | Match results |
| --- | --- | --- |
| Men's Singles | Kento MOMOTA (Japan) 2-0 Anders ANTONSEN (Denmark) | 21-17, 21-11 |
| Women's Singles | AN Seyoung (South Korea) 2-0 Akane YAMAGUCHI (Japan) | 21-17, 21-19 |
| Men's Doubles | Takuro HOKI and Yugo KOBAYASHI (Japan) 2-0 Marcus Fernaldi GIDEON / Kevin Sanjaya SUKAMULJO (Indonesia) | 21-11, 17-21, 21-19 |
| Women's Doubles | Nami MATSUYAMA and Chiharu SHIDA (Japan) 2-0 JEONG Na Eun and KIM Hye Jeong (South Korea) | 21-9, 21-11 |
| Mixed Doubles | Dechapol PUAVARANUKROH and Sapsiree TAERATTANACHAI (Thailand) 2-0 TANG Chun Man and TSE Ying Suet (Hong Kong) | 21-11, 21-12 |
The game results of world-top players
Men's Singles: MOMOTA claims victory

Kento MOMOTA of Japan once again showed why he was the top-seeded player for the tournament with a 21-17, 21-11 straight set victory over Denmark's Anders ANTONSEN. This is MOMOTA's first Badminton World Federation (BWF) World Tour title since 2020.
Both players were well-deserving of their 1st and 3rd seed rankings as they made their way to the finals with straight set victories over all their opponents. The first set saw ANTONSEN put up a good fight with several good rallies. But in the second set, he made too many errors in his attempts to win points. In the end, it was MOMOTA's all-round game excellence, quicker court coverage and better control of the shuttle which enabled him to secure the victory at the DAIHATSU INDONESIA MASTERS 2021.
This is sweet revenge indeed for MOMOTA who lost to Denmark's Anders ANTONSEN when they last meet in this event in 2019. This convincing victory will definitely boost MOMOTA's confidence going into the next event.
Women's Singles: Third-time lucky for rising star AN

It was third time lucky for AN Seyoung as the South Korean secured her first DAIHATSU INDONESIA MASTERS title over Akane YAMAGUCHI in straight sets 21-17 and 21-19.
This was their 3rd consecutive clash in finals which saw YAMAGUCHI attempting to win a hat-trick following victories in Denmark and France last month. However, AN was too determined and displayed good composure and form to clinch the win.
The first game saw AN race to a good lead before YAMAGUCHI started to mount her challenge. Both players attacked and defended, demonstrating incredible accuracy at the net, all-round agility and great court coverage. But in the end, it was AN who persevered and held on to win the first game 21-17. AkaneYAMAGUCHI responded well in the second game with a change in tactics and upped her attack. But AN absorbed the pressure well, continuing to thwart YAMAGUCHI's attacks with artful defense and clever shot-making. In the end, the young Korean held her nerve at Championship point and sealed victory at 21-19, making the DAIHATSU INDONESIA MASTERS her first title since winning the Gwangju Korea Masters in 2019.
Men's Doubles: Major upset for Indonesia!

After a thrilling 3-set match that lasted almost an hour, it was the Japanese pair of Takuro HOKI and Yugo KOBAYASHI who emerged victorious against the top-seeded Marcus Fernaldi GIDEON and Kevin Sanjaya SUKAMULJO. The defeat was a major upset for millions of Indonesian badminton fans as the Minions were the only Indonesians represented on the final day
The first set was a surprise to many as the Japanese pair strolled to a seemingly easy 21-11 win over the Minions, the past winner of the DAIHATSU INDONESIA MASTERS for 3 consecutive years. After the break, the Minions were a lot more inspired and displayed the quality of badminton that earned them the top seeding. They lured the Japanese pair into extended smashing rallies by constantly lobbing more to the base line with the hope of tiring their opponents. The strategy paid off and eventually, the Minions forced the rubber after winning the second set 21-17. But instead of fading away in the third, HOKI and KOBAYASHI dug deep, relying on their superior fitness and continued to engage the Minions in long and exciting rallies. Eventually, the Minions cracked under pressure and HOKI/ KOBAYASHI wrapped up the third set at 21-19, making this their first-ever win against GIDEON and SUKAMULJO.
Women's Doubles: MATSUYAMA/SHIDA just too good

Nami MATSUYAMA and Chiharu SHIDA defeated surprise finalists JEONG Na Eun and KIM Hye Jeong of South Korea in straight games 21-9, 21-11.
Expectations were high for the South Korean pair. Although they have not played together for more than 2 years and are ranked 168th coming into this tournament, they were making their way through the rounds with convincing victories over their higher ranked opponents. However, when it came to the final match, they were outplayed and no match for the speed, agility, and tactics of MATSUYAMA/SHIDA who were seeded fourth. MATSUYAMA and SHIDA kept their cool during the long rallies and were more patient, waiting for the right moments to attack. Their patience eventually paid off after 46 minutes when they sealed the final point.
Mixed Doubles: Easy win for Thai top seeds

Thailand's Dechapol PUAVARANUKROH and Sapsiree TAERATTANACHAI made it look easy with a 21-11, 21-12 victory against Hong Kong's TANG Chun Man and TSE Ying Suet in the mixed doubles. The Hong Kong pair just could not muster the same level of energy, concentration and determination they displayed during their semi-final win over Yuta WATANABE/ Arisa HIGASHINO of Japan. In the end, it was obvious the grueling semi-final encounter had taken its toll on the Hong Kong pair as PUAVARANUKROH/TAERATTANACHAI made quick work of both sets with their all-round strength and speed.
TOP PLAYERS CONTINUE THEIR QUEST FOR GLOBAL BADMINTON HONOURS

Following the conclusion of the DAIHATSU INDONESIA MASTERS 2021, Japan has become the talk amongst badminton fans after winning three out of the five finals at The Westin Resort, Nusa Dua Bali, Indonesia. In fact, Japan was represented in all 5 categories in the semi-finals, and secured a place in four of the five finals. In the end, the better and more experienced players proved they were able to adjust their game, be more creative and deploy the right tactics to gain the upper hand over their opponents. For the seeded players who failed to advance like Ratchanok INTANON, Viktor AXELSEN, Antony GINTING, PUSARLA V. Sindhu and the pair of Greysia POLII/Apriyani RAHAYU, they will need to make the necessary adjustments if they want to improve their performance in the next battle.
Interviews with Winners
Kento MOMOTA

(Men's Singles Champion)

"I am so happy. I've worked so hard for this victory and was just trying to play my best in both games. I didn't try to do anything special and wasn't rushing my shots. In the end doing my best got me there and I am happy as ANTONSEN is a very strong opponent. I really enjoyed the match, but I don't think he enjoyed playing today. I'm exhausted now though so I just want to sleep all day tomorrow and do my best in the Indonesian Open next week."
Nami MATSUYAMA and Chiharu SHIDA

(Women's Doubles Champion)

"The match was actually very tight and the opponent gave a good game, they played slow and long rallies. We had to be patient with them throughout," said SHIDA.
The South Korean doubles game was completely different from the Thai pair in the semifinal match. "Thai players are known to be tough and fast. This is our first time having a match with JEONG/KIM, and at one point we lost focus while playing. We've played through our best strategy earlier," said MATSUYAMA.
After scoring a win, SHIDA added she wanted to rest and enjoy the facilities at the Westin Resort while waiting for the training schedule before the next tournament. "Playing on the beach or sitting by the pool, might be fun," said SHIDA.
AN Seyoung

(Women's Singles Champion)

"I feel really happy. I made one or two mistakes, but I started to correct those unforced errors so I'm very happy to win the title today. I wasn't thinking about championship point. I was just taking it point-by-point. I'll take this title and will relive it as one of my happiest memories."
Takuro HOKI/Yugo KOBAYASHI

(Men's Doubles Champion)

"We are really happy to win. To defeat the world No.1 ranked men's doubles pair is a big victory for us as we haven't managed to do it before. It will really build our confidence.
There wasn't really a strategy, I felt like Marcus and Kevin were tiring out. The shuttles were slow too and we knew we needed to be on the attack. There were some long rallies and perhaps that was to our advantage. At championship point, we were trying not to feel nervous or anything like that. We just wanted to do our best and ensure we played without pressure.
It's important for us to maintain our confidence now and keep up the momentum for the rest of our time in Bali, but this is certainly up there with our biggest achievements. It is important we stay confident as we have another strong Indonesian pair in round one next week (Mohammad AHSAN/Hendra SETIAWAN).
The end of the tournament and towards 2022

The DAIHATSU INDONESIA MASTERS 2021 was a concluded on a rewarding note for the Japanese players who won three titles out of the five contested at The Westin Resort, Bali. It was a memorable feat for men's doubles pair Takuro HOKI / Yugo KOBAYASHI who secured their first ever win against in Marcus Fernaldi GIDEON and Kevin Sanjaya SUKAMULJO on home soil. Even sweeter was the victory of men's singles Kento MOMOTA over Anders ANTONSEN, to whom he lost to in 2019.
The Indonesian players dearly missed their energetic Indonesian fans and spectators, who always manage to inspire and lift their game. Despite the absence of the Chinese players, the competition remained keen with much improvement by players from all over Asia and Europe especially Denmark, India, Malaysia and South Korea.
Despite not being able to attend the tournament, the Indonesian fans were determined to show their love and support for the players, many who were overwhelmed with an un-ending flow of gifts and flowers. The Indonesian Badminton Association and Westin Bali also worked really hard to create a relaxing atmosphere with fun activities, entertainment and top-notch hospitality. As one of Indonesia's leading brands, DAIHATSU would like to extend their gratitude to the Indonesian Badminton Association and The Westin Resort for their hard work and support in making this year's tournament a huge success. It will forever be remembered as 'special', in more ways than one.