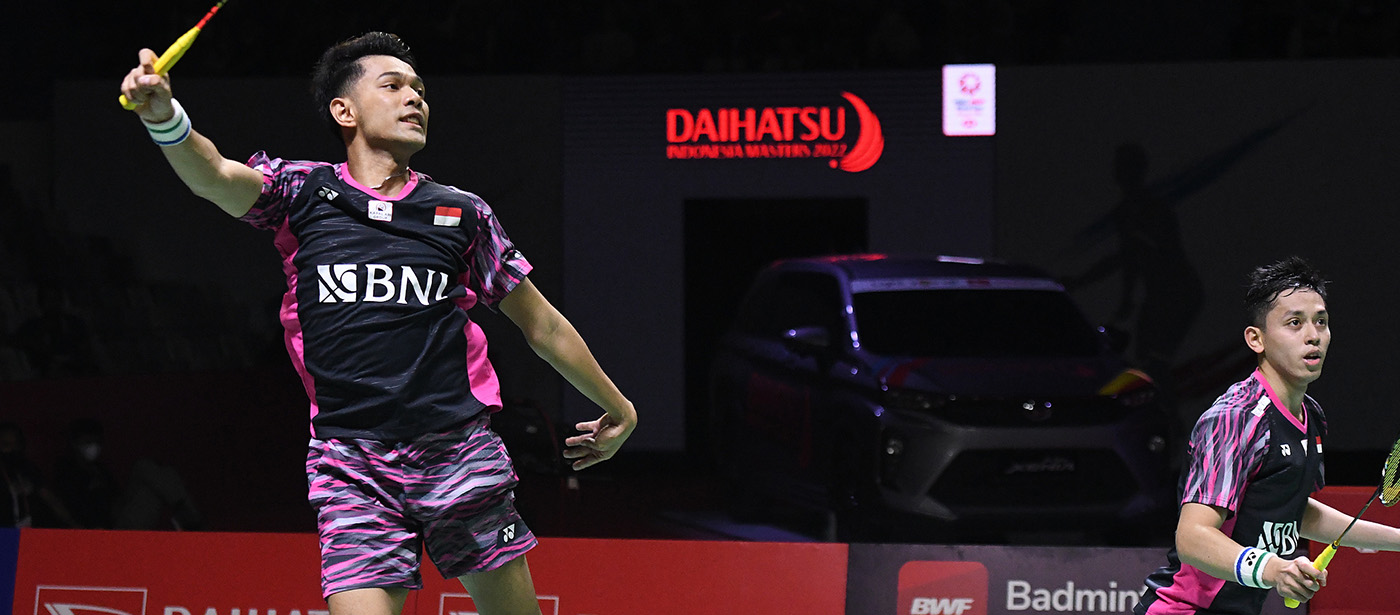 DAIHATSU INDONESIA MASTERS 2022
Part of the HSBC BWF World Tour Super 500
Date: Tuesday, 7th – Sunday, 12th June 2022
Venue: Istora Senayan, JAKARTA, INDONESIA
The DAIHATSU INDONESIA MASTERS has returned again from 7th to 12th of June 2022. Taking place at Istora Senayan, Jakarta, the badminton tournament, held since 2018 presented by DAIHATSU, featured over 447 players from around the globe to compete for the prestigious title.
Unlike last year's strict Covid-19 measures which resulted to a close-environment tournament in Bali, this year, players were rejoiced by passionate fans that cheered them on till the very end.
After a two-year long hiatus of strict procedures and isolation, many activities were hosted at Istora Senayan to welcome back the fans.
The event was truly a success as not only did every player outdid themselves in their performances, but also much appreciation and gratitude to the fans who came out to support their favourite sport as attendance was at high-record despite the 75% capacity limit enforced by the Indonesian government.
At the same time, those who did not get the opportunity to purchase tickets also came to support; which has made Istora Senayan not only full in-house but also outside, as fans had the opportunity to watch the live games from a large public viewing screen located nearby the stadium. The fans cheered on to their favourite players and supported their national heroes together with their friends and families.
This year, the DAIHATSU INDONESIA MASTERS 2022 is not only a celebration of the sport and its talented players, but also a celebration to the returning of fans who recognises the game and supported it to where it is today.
Final Match Results
| Category | Player name | Match results |
| --- | --- | --- |
| Men's Singles | Viktor AXELSEN (Denmark) 2-0 CHOU Tien Chen (Taiwan) | 21-10, 21-12 |
| Women's Singles | CHEN Yu Fei (China) 2-1 Ratchanok INTANON (Thailand) | 21-16, 18-21, 21-15 |
| Men's Doubles | Fajar ALFIAN and Muhammad Rian ARDIANTO (Indonesia) 2-0 LIANG Wei Keng and WANG Chang (China) | 21-10, 21-17 |
| Women's Doubles | CHEN Qing Chen and JIA Yi Fan (China) 2-0 Apriyani RAHAYU and Siti Fadia Silva RAMADHANTI (Indonesia) | 21-18, 21-12 |
| Mixed Doubles | ZHENG Si Wei and HUANG Ya Qiong (China) 2-0 Thom GICQUEL and Delphine DELRUE (France) | 21-13, 21-14 |
The game results of world-top players
Men's Singles: Impeccable game by AXELSEN

The men's singles finals saw CHOU Tien Chen of Taiwan played against Viktor AXELSEN of Denmark. The Olympic champion was on a roll as AXELSEN only needed 41 minutes to secure a straight-game victory over his rival, third-seeded CHOU Tien Chen of Chinese Taipei. AXELSEN wrapped up the game with 21–10, 21–12 against the world number four with his impeccable skill play. Fans saw multiple smashes from AXELSEN which took control of the game early and exerted CHOU's energy. Right after the last point which crowned AXELSEN the winner, he broke into disbelieve of his win and from his excitement he threw his racket to the crowd that cheered him all the way through. This win is his third individual title of the season. AXELSEN has previously clinched victory at both the prestigious tournaments – All England Open and European Championships.
Women's Singles: Chen Just Too Good!

CHEN Yu Fei of China went head on and was tested by Thailand's Ratchanok INTANON, who fought hard trying to seek victory over CHEN. The Olympic champ, CHEN, was taken to a third-game decider before she finally saw off INTANON's challenge 21–16, 18–21, 21–15. Numerous long rallies and net plays were seen in this game, as it was INTANON's famous playing style. The second set of the game had more twists and turns which made fans nervous of CHEN's win or INTANON's chance to nab a victory. However, during the rubber-set, a series of unforced errors from INTANON also contributed to CHEN's change of fortune. For CHEN, the win in Jakarta marks a first individual tournament victory since she won gold at the Tokyo 2020 Games, and her first BWF World Tour since claiming the trophy of the PERODUA MALAYSIA MASTERS 2020 Presented by DAIHATSU.
Men's Doubles: First victory in Istora Senayan for ALFIAN and ARDIANTO

An achievement has been brought back the glory of Indonesia's men's doubles at the DAIHATSU INDONESIA MASTERS 2022 as Fajar ALFIAN and Muhammad Rian ARDIANTO have successfully added one more BWF World Tour title to their collection and their first victory in Istora Senayan. ALFIAN and ARDIANTO breezed through the game by their strong power and aggressive attacks which pressured their opponents to a defeat. The Indonesian duo dictated the course of the match when LIANG Wei Keng and WANG Chang of China fell behind 3-11 during the first set and from there the Indonesian duo continued to widen the margin score making it difficult for the Chinese pair to catch-up. During the second set, the Chinese pair sent multiple attacks trying their luck for a redemption in a rubber-set; however, the Indonesian duo ultimately caught up and won with a score of 21-10, 21-17.
Women's Doubles: It's a Gold for CHEN and JIA

The Indonesian pair, Apriyani RAHAYU and Siti Fadia Silva RAMADHANTI gone through a steep road, as they had to face world's number one in women's doubles – CHEN Qing Chen and JIA Yi Fan (China). In the final match, the home pair, who just debuted in 2022, lost to win the title, losing 18-21, 12-21. The game started well for the Indonesian pair; nevertheless, attack after attack from them had not been able to penetrate the Chinese's great defence until finally they had to lose the first game. The second set did not turn out well too for RAHAYU and RAMDHANTI as mistakes were made with punches that did not reach the net and fans were made nervous of not receiving a gold triumph on home ground. Even so, both RAHAYU and RAMADHANTI, who recently crowned SEA Games champions, was unsuccessful to match the rhythm of CHEN and JIA.
Mixed Doubles: ZHENG/HUANG History Markers!

The Chinese pair, ZHENG Si Wei and HUANG Ya Qiong made history as the players with the most DAIHATSU INDONESIA MASTERS titles and added one more title to their previous wins back in 2018, 2019, and 2020. The world number two pair secured their latest title after defeating the French pair, Thom GICQUEL and Delphine DELRUE. It was the first meeting of the two teams, which made both of team have very little information of each rival's game play and skillset. In the beginning, ZHENG and HUANG struggled to find the rhythm of the game, but later they were able to come back slowly and apply the right strategy to defeat the French pair. The Tokyo Olympic silver medallists only needed 38 minutes to take the match in a straight game and concluded the game at 21-13, 21-14.
THE JOURNEY CONTINUES FOR PLAYERS JOURNEY TO DOMINATE GLOBAL BADMINTON HONOURS

Following the conclusion of the DAIHATSU INDONESIA MASTERS 2022, Chinese plyers dominated the tournament and has become the talk amongst badminton fans after winning three out of the five categories at Istora Senayan. The Chinese team indeed went all out as they were able to secure a place in three categories of the five finals. Many techniques were showcased throughout the tournament from top players, unpredictable and nerve-wrecking game play that wooed fans at the edge of their seats; and multiple game breezing plays in under 40 mins.
Ultimately, the players who were able to adjust their game, be more creative with their techniques and deploy the right tactics to gain the upper hand over their opponents managed to nab gold at the DAIHATSU INDONESIA MASTERS 2022.
For Indonesia's men's doubles Fajar ALFIAN and Muhammad Rian ARDIANTO, there are no time to rest for the local heroes as another important tournament for them, the Indonesia Open starting on 14th June, Tuesday at the same venue. Victor AXELSEN too plays in the upcoming Indonesia Open where he also aims for another title, before preparing for two consecutive tournaments in Malaysia.
Interviews with Winners
ZHENG Si Wei / HUANG Ya Qiong

(Mixed Doubles Champion)

"They have a good serve and once we caught their shuttles, it gave us confidence to continue," added HUANG.
"We faced tough opponents in this match. We had difficulty adapting to the field. Luckily, we were able to overcome that and win the match. The audience of ISTORA played an important role in our success. They are very warm and we are motivated to show the best here." – ZHENG
Viktor AXELSEN

(Men's Singles Champion)

"I love playing here in ISTORA and I always dreamt of winning a tournament at ISTORA. It's a legendary venue, so to have done that is something that is really special to me. CHOU is always a tricky opponent; we have played each other many times and I'm happy to come out as the winner." – AXELSEN
CHEN Yu Fei

(Women's Singles Champion)

"I am very pleased to get the gold medal today. I faced some difficulties during the game but I'm very pleased to overcome them and secure the win. Honestly, my physical condition has decreased, especially when competing in the previous match was exhausting. After this, I want to recover and focus on the Indonesia Open 2022." – CHEN
CHEN Qing Chen / JIA Yi Fan

(Women's Doubles Champion)

"It's been a long time I haven't heard the screams of the audience, it's very pleasant. This is our first time meeting this new Indonesian pair. At the beginning of the match, we were still adjusting the rhythm of the game plan while the opposing pair attacked a lot. After a few points can we figured out the strategy to beat our opponents." – JIA
"We are very happy to win here. This gives us more confidence for the next tournament (Indonesia Open 2022)." – CHEN
Fajar ALFIAN / Muhammad Rian ARDIANTO

(Men's Doubles Champion)

"In the first game we played comfortably. Unfortunately, in the second game, we had problems with the wind. Luckily, we are confident against them and much more confident. We want to be more consistent, after the Swiss Open we want to play even better and get into the top five men's doubles in the world." – ALFIAN
"Our target is not only to be more consistent but also to return to the top five at the end of this month. By the end of the year, we hope to be in the top three." – ARDIANTO
The End of The Tournament and The Future of 2023

The DAIHATSU INDONESIA MASTERS 2022 ended in favour for the Chinese players who won three titles out of the four that went through to finals at Istora Senayan, Jakarta, Indonesia. It was a memorable event for the mixed doubles pair ZHENG Si Wei and HUANG Ya Qiong who made history as the players with the most INDONESIA MASTERS titles. Even sweeter was the victory of men's doubles Fajar ALFIAN and Muhammad Rian ARDIANTO who successfully won the title on their home soil and first time at the prestigious stadium – Istora Senayan.

Players gave it their all throughout the games thanks to the passionate fans who were in full attendance after a two-year long hiatus. Competition remained fierce amongst finalists as fans held on to the edge of their seats waiting for this year's champions to emerge and be crowned.

To celebrate the return of the beloved Indonesian fans, DAIHATSU put up two large PR booth and Car display booth for photo spots and fun activities for fans to stand a chance to win various merchandises. DAIHATSU also conducted exclusive Meet & Greet sessions for selected lucky fans to meet with their favourite players including Taiwanese player CHOU Tien Chen and Malaysian LEE Zii Jia, as well as, Indonesian local favourites Anthony GINTING and Siti Fadia Silva RAMADHANTI.

As one of Indonesia's leading brands, DAIHATSU wishes to thank Persatuan Bulutangkis Seluruh Indonesia (PBSI) for another successful instalment of the wonderful event that brought smiles to fans as well as the Ministry of Health of Indonesia for ensuring safety and health guidelines were adhered throughout the tournament. It will forever be remembered as 'The Year of Our Fans Return', in more ways than one.