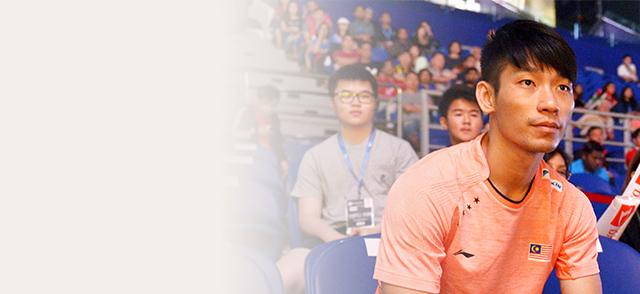 PERODUA MALAYSIA
MASTERS
2019
presented by DAIHATSU
Tournament Recap
Date:Tuesday 15 – Sunday 20 January, 2019
Venue:Axiata Arena (Kuala Lumpur, Malaysia)
PERODUA MALAYSIA MASTERS 2019 presented by DAIHATSU as seen by CHAN Peng Soon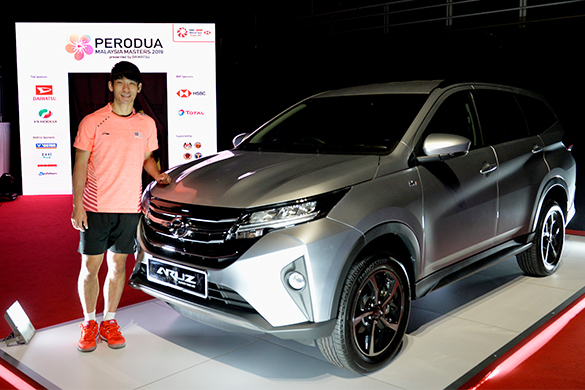 The PERODUA MALAYSIA MASTERS 2019 presented by DAIHATSU was successfully staged for the second consecutive time in Axiata Arena, Kuala Lumpur from 15th to 20th January, 2019. Badminton fans and fraternity experienced a week-long badminton treat filled with many thrilling moments on and off the courts with thousands flocking the tournament venue for the World Tour Super 500 tournament. The atmosphere was simply exhilarating as local fans celebrated the good showing by Malaysian shuttlers throughout the tournament.

Malaysian mixed doubles champion CHAN Peng Soon provides an insight on the tournament's happenings, which saw a strings of upsets on the courts apart from the many interesting and interactive activities which kept the tournament and venue alive and colourful. On the courts, spectators were kept at the edge of their seats right from the word goes. I'm delighted to see the progress of Malaysian players especially in the men's doubles, the men's and women's singles, and the mixed doubles.

It's simply heartening to know that badminton continue to enjoy good followings and support, retaining its status as the country's leading sport. This, to me, is simply encouraging as it would certainly inspire many young talents to horn their skills at early age and eventually, follow the footsteps of their badminton heroes.
The game results of world-top players
The Men's Singles: The rise of SON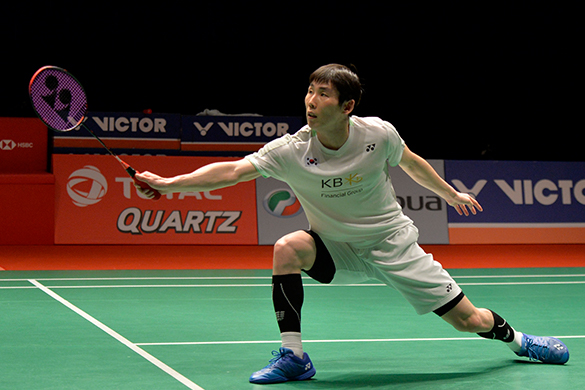 While the pre-tournament hype was all about the world number one Kento MOMOTA from Japan and the defending champion Viktor AXELSEN, the conclusion of the tournament turned out differently with upsets unfolded in the very first round. MOMOTA was shown the early exit after being defeated by Kenta NISHIMOTO 21-15, 14-21, 22-20. AXELSEN, meanwhile, progressed a bit further before eventually losing out to China's CHEN Long at the semi-finals stage.

For the Malaysian players, it was a fairly fruitful outing despite failing to conclude their campaign with any titles. Fans get to see the rise of the country's young talents who look ready to shoulder greater responsibilities on the international front. Following CHONG Wei Feng and Iskandar ZULKARNAIN's failure in the early rounds, Malaysia's men's singles challenge was left to LEE Zii Jia, who advanced to the quarterfinals after defeating NISHIMOTO and Tanongsak SAENSOMBOONSUK in the early rounds. Zii Jia's brand of play which combined aggresiveness and attacks, however, was not good enough as he bowed out at the hands of AXELSEN in staright sets of 21-12, 22-20. Fourth seed SON Wan Ho captured his first title of the year by winning over CHEN Long with 21-17, 21-19 in 55 minutes to take home the winner's trophy and USD$26,250 in prize money.
The Women's Singles: INTANON grasped the first singles crown of the year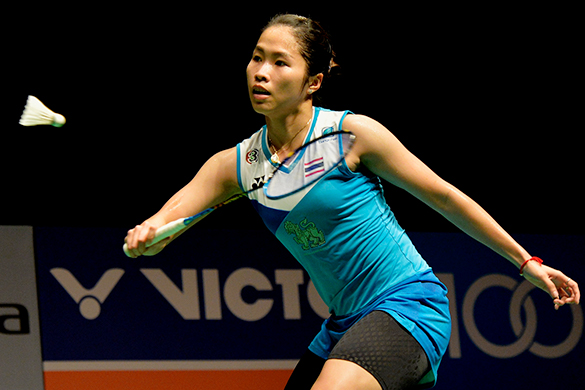 GOH Jin Wei was the darling of the home crowd, displaying great character and confidence throughout the tournament. Against third seed Akane YAMAGUCHI, ZHANG Yiman and fifth seed HE Bingjiao, GOH displayed her true colours, which eventually put her into the last four. However, Ratchanok INTANON played a different ball game as she succumbed to the Thai's aggressive style of play and lost 21-16, 21-16 in the semifinals.

Against Spain's Carolina MARIN, INTANON was simply superior with her all-round skills, good coverage of the court and deadly smashes which often caught MARIN off guard. The Thai star will be looking for a good year ahead following her two victories over world number one TAI Tzu Ying in Kuala Lumpur. In the finals, MARIN simply had no answer to INTANON's deadly baseline shots and deceptive drop shots. It was INTANON's first singles crown of the year and watch out as she set her sights for more titles this year!
Men's Doubles: Indonesia top pair a class above the rest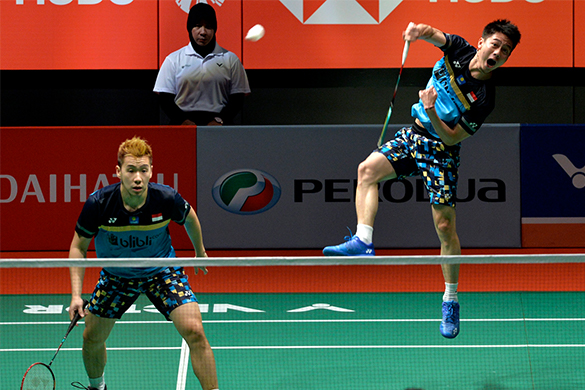 There were three Japanese, three Malaysian pairs and one each from Denmark and Indonesia as the tournament entered the quarterfinal stage. In the end, it was Marcus Fernaldi GIDEON and Kevin Sanjaya SAKAMULJO who stepped onto the winner's podium with their classy displays throughout the tournament. The highlights were MARCUS/KEVIN - GOH V Shem/TAN Wee Kiong semifinals encounter, which made fans turning up in big numbers to cheer their heroes. It was an entertaining duel as both battled point for point right from the start, which eventually ended in the Indonesians' favour and a 4-1 winning record. I can see that the future looks good for Malaysia's men's doubles with the emergence of promising pairs like Aaron CHIA-SOH Woo Yik and tournament finalists ONG Yew Sin-TEO Ee Yi. ONG-TEO were through to the finals, but despite battling hard, they were not able to upset MARCUS-KEVIN, who were clearly in a class of their own. Much is expected from GOH-TAN as they continue their journey for qualification to the next year's Olympic Games.
Women's Doubles: Japan continues to rule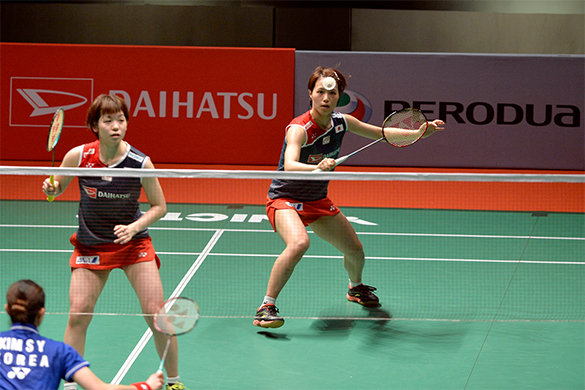 There were five Japanese pairs in the main draw with top seed pair of FUKU-HIRO (Yuki FUKUSHIMA-Sayaka HIROTA) leading the charge. The second seed MATSUMOTO-TAKAHASHI and the third seed Mayu MATSUMOTO-Wakana NAGAHARA all made it to the semi-finals, leaving Indonesia's Greysia POLII-Apriyani RAHAYU to spoil a clean sweep by the Japanese pairs.

The emergence of promising Indonesia pairs like Ni Ketut Mahadewi ISTRANI-Rizki Amelia PRADIPTA, Yufira BALKAH-Jauza Fadhila SUGIARTO would surely put Indonesia in a good seat to challenge the Japanese in the coming years

It was a fitting finale between FUKU-HIRO and POLII-RAHAYU, who fought tooth and nail in a three-set encounter to settle terms. It was a point to point battle, with little separating both pairs in terms of quality and tactics. A combination of fast play, deadly smashes, smooth net play and long rallies were the order of the day as both pairs attempted to outwit each other into making errors. After 75 minutes, FUKU-HIRO emerged victorious with an 18-21, 21-16,21-16 outcome and took home USD27,650.
Mixed Doubles: Japan rules but watch out for the Thais!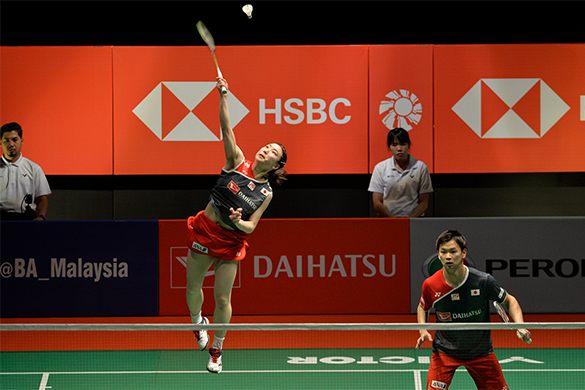 Since our departure from the national Malaysian badminton set-up, my partner GOH Liu Ying and I have been working doubly hard to prove ourselves and live up to expectations. Thankfully, following our success in Thailand Masters, we managed to keep our spirits high to face new challenges ahead. We managed to advance into the last four, which was already a huge achievement. It was unfortunate that we had to square off against fellow compatriot GOH Soon Huat-Shevon LAI in the quarterfinals. Admittedly, the Japanese pairs, in particular the pair of Yuta WATANABE-Arisa HIGASHINO were above the rest as they continue to improve themselves mentally, physically and tactically to finally land their hands on the winning trophy. However, if there is another pair we need to keep our eyes on, it is Dechapol PUAVARANUKROH and Sapsiree TAERATTANACHAI, who made into the finals against WATANABE-HIGASHINO. With the emergence of Thai and Indonesian young pairs, the battle for the supremacy in mixed doubles will surely gets harder in the coming years.
Interviews with Winners
Yuki FUKUSHIMA / Sayaka HIROTA (Women's Doubles Champion)
The matches against the Indonesians are always close and tight. We know each other's game quite well. After losing out the first set, we remained focused and force them into making errors. At times, it was difficult as they managed to read our game. We increased the pace, consistently varying our style of play to force them into making mistakes and in the end, it paid off.
SON Wan Ho (Men's Singles Champion)
Matches against CHEN Long are always difficult as he's unpredictable with his tactics and good at reading his opponent's more. I've played him many times and emerging as the champion in Kuala Lumpur, at the start of the year, is simply amazing. I had to use all my resources and force CHEN Long into making errors throughout the match. I'm truly happy with the outcome as this is my very first tournament in 2019.
Final Match List
| Category | Player name | Match results |
| --- | --- | --- |
| Men's Singles | SON Wan Ho (2-0) CHEN Long | 21-17,21-19 |
| Women's Singles | Ratchanok INTANON (2-0) Carolina MARIN | 21-9,22-20 |
| Men's Doubles | Marcus F GIDEON / KEVIN Sanjaya SAKAMULJO (2-0) ONG Yew Sin / TEO Ee Yi | 21-15,21-16 |
| Women's Doubles | Yuki FUKUSHIMA / Sayaka HIROTA (2-1) Greysia POLII / Apriani RAHAYU | 18-21,21-16,21-16 |
| Mixed Doubles | Yuta WATANABE / Arisa HIGASHINO (2-0) Dechapol PUAVARANUKROH / Sapsiree TAERATTANACHA | 21-18,21-18 |
The end of the tournament and towards 2020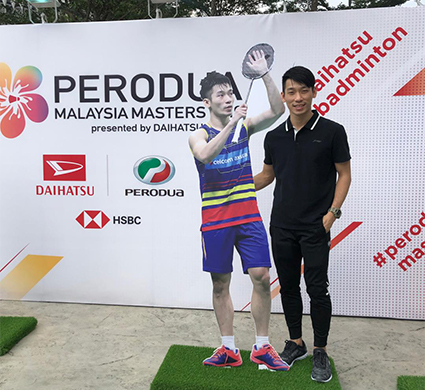 The PERODUA MALAYSIA MASTERS 2019 presented by DAIHATSU ended on a positive note as it heads into the third edition next year. Following DAIHATSU's debut in the tournament last year, the MALAYSIA MASTERS is set to soar as it gained bigger traction with higher level of awareness and interests in 2019. The presence of the Malaysian Deputy Prime Minister to present winning trophies to winners is indeed a recognition to this prestigious event.

Following two successful editions, I reckoned the tournament will get even better in the coming years. The setting was impressive and fitting while the colourful branding resulted in the venue looking vibrant and lively. The presentation of players and matches were carefully planned. Most interestingly, the sight of the world stars marching into the arena accompanied by kids wearing shirts with sponsor's brand certainly add colour to the event. It was meant to inspire kids and youngsters to take up the sport and follow the footsteps of their badminton idols.

What is even more interesting is that fans were given a rare chance of stepping onto the centre court and feel the final atmosphere during the brief "hit the shuttle into the box" challenge during the break of each final matches.
Meet-and-greet as well as photo and autograph signing sessions with the stars received tremendous response with fans lining up in long queues for an up, close and personal sessions with their badminton idols. For fans, it was an exciting week-long badminton treat as they get to closely interact with their stars at the venue.
CHAN Peng Soon
(Malaysian Mixed Doubles Player)

CHAN Peng Soon was born in Georgetown, Penang Island on 27 April 1988 and currently is a professional badminton player specialising in mixed doubles. CHAN and regular partner GOH Liu Ying have risen to become Malaysia's top mixed doubles pair and are consistenly ranked amongst the world's top 10. Winning a silver medal in the 2016 Rio Olympics was the highlight of their badminton career. They were the first ever Malaysian mixed doubles pair to qualify for the Olympic Games. CHAN's long list of honours includes winning the Badminton Asia Championships and 2010 Commonwealth Games. CHAN and GOH won the recent Thailand Masters in Bangkok.