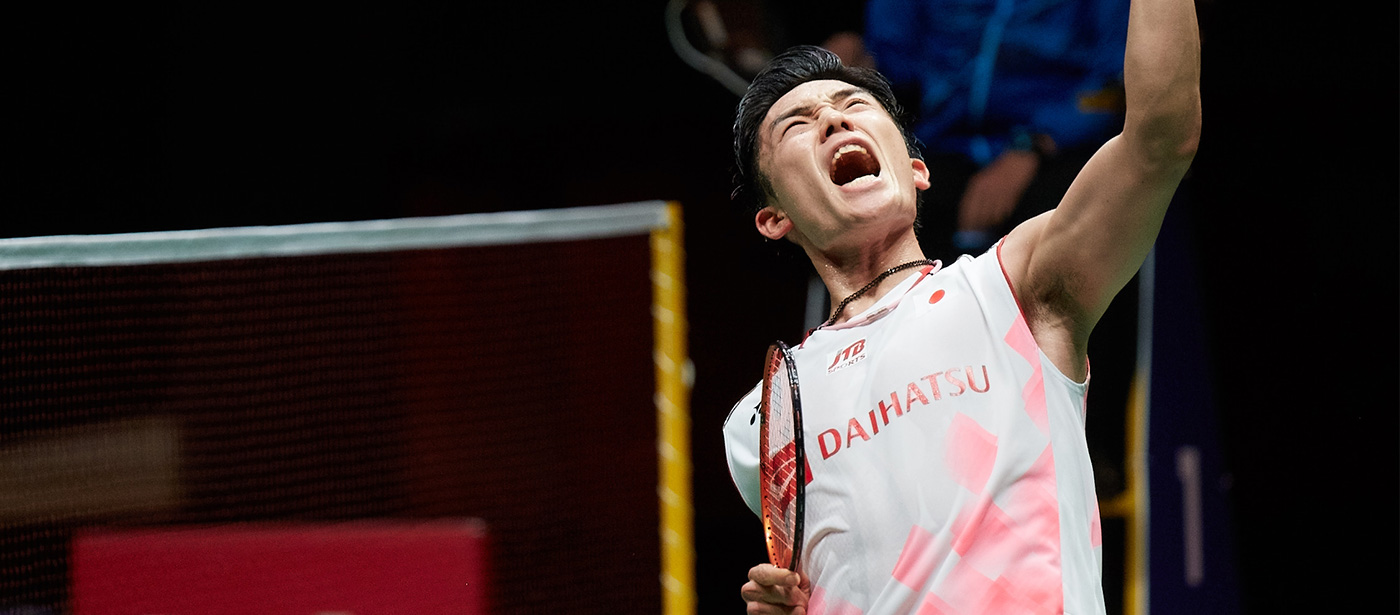 PERODUA MALAYSIA MASTERS 2020 Presented by DAIHATSU
Part of the HSBC BWF World Tour Super 500
Tournament Recap by GOH Liu Ying
Date: Tuesday 7th – Sunday 12th January, 2020
Venue: Axiata Arena, KUALA LUMPUR, MALAYSIA
Prestigious 2020 curtain raiser tournament was held

The PERODUA MALAYSIA MASTERS 2020 Presented by DAIHATSU is a part of the HSBC BWF World Tour Super 500 and the first major tournament in 2020. The tournament, held since 2009, carried even more significance this year as it provided a platform for players to accumulate valuable points and improve on their standings amongst the world's best. The event that attracted all the top-ranking and world-class players from all five categories of the competition, was held at Axiata Arena in KL Sports City, Kuala Lumpur from 7th to 12th of January 2020.
Badminton enthusiasts flocked to the arena to get up close and personal with their favourite stars and watch the badminton tournament. Players mingled with fans and spectators in the meet and greet sessions as well as other fan-engagement activities. There were a lot of action and surprise elements included, not forgetting cheers that contributed to the vibrant atmosphere at this year's PERODUA MALAYSIA MASTERS 2020 Presented by DAIHATSU, which offers an increased prize of USD400,000.
Final Match Results
| Category | Player name | Match results |
| --- | --- | --- |
| Men's singles | Kento MOMOTA (Japan) 2-0 Viktor AXELSEN (Denmark) | 24-22 / 21-11 |
| Women's singles | CHEN Yu Fei (China) 2-0 TAI Tzu Ying(Taiwan) | 21-17 / 21-10 |
| Men's Doubles | KIM Gi Jung / LEE Yong Dae (Korea) 2-0 LI Jun Hui / LIU Yu Chen (China) | 21-14 /21-16 |
| Women's Doubles | LI Wen Mei / ZHENG Yu (China) 2-1 DU Yue / LI Yin Hui (China) | 21-19 / 16-21 / 21-19 |
| Mixed Doubles | ZHENG Si Wei / HUANG Ya Qiong (China) 2-0 WANG Yi Lu / HUANG Dong Ping (China) | 21-19 / 21-12 |
Reporter:GOH Liu Ying

Born on May 1989, in Melaka
GOH Liu Ying is a Malaysian female badminton player who has been consistently ranked among the top 10 mixed doubles player in the world. She was ranked as high as the world No. 3. She even won the silver medal at the 2016 Summer Olympics.
The game results of world-top players
Men's singles: MOMOTA rules, clinches first title of the year

Kento MOMOTA, who etched his name in the world badminton history after winning a record of 11 titles in 2019, was certainly in the zone during the match against home favourite LEE Zii Jia in the semi-finals. MOMOTA was simply in a class of his own, dismissing the Malaysian ace in straight sets of 21-10, 21-19, paving the way for his first PERODUA Malaysia Masters title at the start of the decade. MOMOTA's precise net play, superior agility, as well as his signature overhead smashes were simply unmatchable. Against Viktor AXELSEN in the finals, MOMOTA admitted that he was not in his top form, yet strong enough, displaying sheer speed, skills and style of play which left AXELSEN with little room of getting back into the game. The first title of the year would surely come as big boost for MOMOTA as he gears up or more stiffer challenges on the courts in the coming months!
Women's singles: The rise of CHEN

In the beginning, TAI Tzu Ying stood out as the tournament's hot favourite, but it was China's number one, CHEN Yu Fei who eventually stood on the podium as the 2020 winner. TAI had no retort to the attacking play adopted by CHEN whom she had beaten 14 times out of their previous 16 encounters. CHEN was simply enjoying her game and adopted a nothing-to-lose approach, finishing off the game with her powerful smashes whenever an opportunity knocks. It was obvious that TAI was under great pressure to deliver as the tournament's top choice which led to her making a series of errors. The match was wrapped up 21-17, 21-10 in just 37 minutes to CHEN's advantage, handing her the first title of the year. China clearly made their mark with three players through to the quarterfinals while Nozomi OKUHARA was the Japan's sole flag bearer but were halted at the quarterfinal stage. The competition is getting tougher and with the Indonesia Masters and few others tournament being held back to back, the battle for honours will certainly get harder!
Men's Doubles: The rise of KIM-LEE

World number one Marcus Fernaldi GIDEON and Kevin Sanjaya SUKAMULJO, unexpectedly suffered a shocking defeat and were shown the exit by fellow compatriot pair and former champions Fajar ALFIAN / Muhammad Rian ARDIANTO in the quarterfinals. With the world number one out of sight and two other Indonesian pairs out of contention, the Chinese pairs came to the fore to dominate the men's doubles final show and remain the current favourites. But against all odds, Korean pair KIM Gi Jung / LEE Yong Dae stepped up to rise to the occasion and put a stop to China's domination with their brand of powerful smashes and precise net play. China's world number 3 LI Jun Hui / LIU Yu Chen got beaten 21-14, 21-16 by the KIM / LEE who handed Korea its first men's doubles title in the tournament's history.
Women Doubles: China walks tall in an all-Chinese battle

Japan, Korea, Indonesia and China were all represented in the quarterfinals but in the end, China's top two pairs LI Wen Mei / ZHENG Yu and DU Yue / LI Yin Hui stamped their authority to set up an all-Chinese battle in the finals. Former champion Ayaka TAKAHASHI and Misaki MATSUTOMO, gold medalists in the 2016 Rio Olympics, were hit hard by DU/LI in the quarterfinals. Nami MATSUYAMA/Chiharu SHIDA dragged China's DU/LI into a three-setter in the semi-finals but lost out 21-14, 19-21, 21-11 while Indonesia's hopes of having a representative in the finals weren't met following Greysia POLLI/Apriyani RAHAYU's defeat at the hands of LI Wen Mei / ZHENG Yu in the semifinals. The final marathon battle between the two Chinese pair was exceptionally exciting, keeping everyone at the edge of their seats. In the end, LI/ZHENG got the upper hand with a 21-19, 16-21, 21-19 win and headed home with their first women's doubles title in the tournament since 2009.
Mixed doubles: ZHENG / HUANG live up to expectations

An all-Chinese battle between the world's top two pairs – ZHENG Si Wei/HUANG Ya Qiong and WANG Yi Lyu / HUANG Dong Ping – provided one of the most exciting encounters in this year's tournament. While ZHENG/HUANG had a much easier route into the finals, WANG / HUANG had to contend with the home favourite and world number 6 pair CHAN Peng Soon / GOH Liu Ying in the semi-finals. What was expected to be a tough battle turned out to be a tame affair as the Chinese outrun the Malaysian pair in straight sets of 21-10, 21-13. In a closely-fought finals, ZHENG and HUANG managed to overcome WANG /HUANG to head home clinching their first 2020 mixed title, China's first after a lapse of three years.
Watch out for these players too! The players that miss out on the tournament.

China has clearly displayed their might, with representation in four out of the five final encounters. The Chinese were clearly on a high and brimming confidence as they prepare their assault for their upcoming BWF Super tournaments this year. However, the tournament also saw some of the notable casualties, with big stars being lost unexpectedly in the early rounds. But it's not the end of their destiny as they head for tougher challenges at the Istora Senayan in Jakarta for the DAIHATSU INDONESIA MASTERS 2020 to cement their world standings.
Whilst some of the top dogs lived up to their status, others like Indonesian ace Anthony Sinisuka GINTING, Danish Anders ANTONSEN, top Indonesian pair Marcus Fernaldi GIDEON /Kevin Sanjaya SAKAMULJO, Jonatan CHRISTIE (Indonesia) had to bite the dust and were shown the exit in the early stages. However, it's still early days where stiffer and tougher competitions are on the cards!
Interviews with Winners
Kento MOMOTA

(Men's Singles Champion)

It was a great week for me. It's a good way to start the year with a title in your hands. The first tournament of the year has always been hard as everyone else is gunning for the same aim. I'm not really in great shape as I still feel the strain due to last year's hectic schedule. My body is still in the recovery stage but doing well in the PERODUA MALAYSIA MASTERS 2020 Presented by DAIHATSU is important as it is the first tournament of the year. It was a great competition.
LI Wen Mei / ZHENG Yu

(Women's Doubles Champion)

Winning the PERODUA MALAYSIA MASTERS 2020 Presented by DAIHATSU has given us a timely boost to help us prepare and perform better in the coming games. It's a great achievement especially when we have our fellow compatriot in the finals as well. The final match was a roller coaster as were stretched to the limit. Our hardest test was the encounter against Japan's Nami MATSUYAMA and Chiharu SHIDA in the semi-finals matchup which ended in three sets. Japan is a world force in women's doubles but, the competition will be getting harder and competitive.
KIM Gi Jung / LEE Yong Dae

(Men's Doubles Champion)

It was a great feeling especially since this is our first title in a Super 500 tournament. Also, we're extremely happy as this is also Korea's first-ever title in the men's doubles in this tournament. We did not play as much as we wanted last year but we always kept our dreams of winning a big tournament alive! Hopefully, we will be able to maintain our performance and keep on winning throughout the year.
The end of the tournament and towards 2021

The PERODUA MALAYSIA MASTERS 2020 Presented by DAIHATSU ended on a high note, crowning new champions in all categories of the competition. Players, related people and fans head for their next destinations filled with memorable moments in Kuala Lumpur. The atmosphere at Axiata Arena was simply colorful and vibrant with the presence of happy and eager fans. The first tournament of the year saw Kento MOMOTA once again proving his talent and skills. Men's doubles pair of KIM Gi Jung / LEE Yong Dae were crowned the new champions while ZHENG-HUANG lived up to their billings as the world's top mixed pair. For the homesters, the emergence of the much-improved LEE Zii Jia in this year's tournament is a good sign for Malaysian badminton in the new decade, especially after the retirement of former world number one LEE Chong Wei. China has set the tone, signaling their potential dominance in the new decade and the upcoming Olympics with representatives in four out of the five final encounters in Kuala Lumpur. All in all, a great week of top-class badminton tournament for spectators with a promise of an even better spectacle in the future!
On-court action aside, there were a lot of activities going around which injected a colourful and bright atmosphere around the vicinity of the arena. It helps in the promotion of the tournament and generation of greater interests especially amongst youngsters and school children to take up badminton. PERODUA and DAIHATSU joined hands in the promotion of the tournament with an array of fans engagement activities such as contests, quizzes as well as meet-and-greet sessions with selected badminton stars. Prizes, free gift items were given out to spectators, which helped in cultivating lasting memories of the six-day tournament. A new range of vehicles and cars were put on display both outside and inside the arena to provide fans and spectators a closer look at PERODUA's latest and stylish model of the Bezza.